'Insecure' season 3, episode 3: Meet the artists behind the songs in "Backwards-Like"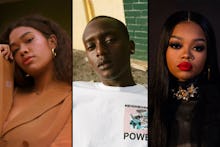 There are so many things to appreciate about Issa Rae's Insecure. The stars! The storytelling! The cinematography! The clothes! The jokes!
The HBO series is known for its celebration of good music — rap, funk and soul are all regular presences and come from newcomers and chart-toppers alike.
To keep up with the music each week for the third season, Mic will compile a list of songs after each episode airs. On the third episode of season three, Issa introduced us to more music by talent you might not know yet. So let's get to it.
"Give Her Some Money" by Maliibu Miitch
On the slick-talking "Give Her Some Money," Maliibu Miitch wants every women to snag windfall. The track appears on the emcee's forthcoming mixtape, The Count, set to be released Sept. 14. Miitch's breakout mixtape, Maliibu Miitch Top 5, arrived in 2017, and helped her land a deal with Atlantic Records. Now, after Vice recently stamped the 27-year-old the "Bronx's next big rapper," Miitch is ready to take her place in the lineage of great female rappers, like Eve, Missy Elliot, Lauryn Hill, Foxy Brown and Lil' Kim. "I want to bring it back to real rappers who write their own shit and keep trying no matter what obstacles they face," she told Vice.
"Sweet Honey" by Peyton
Peyton is an alternative-R&B singer from Houston who's been studying music basically her whole life. "Since the age of 5, I had been training classically in voice and violin intensively," the songbird told Okayplayer in April. Peyton's falsetto commands the dreamy synths on "Sweet Honey," which was released as a single in June 2016. What's the H-town singer up to these days? Well, she recently formed a group with fellow Houstonian and producer Chase of Nazareth, called Pink Destiny. In May, the duo released their album Goals.
"All Black" by Tasha the Amazon
One rising talent coming out of Toronto is Tasha the Amazon. Her rap moniker is inspired by a 1960s cartoon about Amazonian women. "That's my natural state," she told the Cut in 2017. "I'd probably be one of those Amazon warriors." If she did star in her own Amazonian cartoon, Tasha's EDM-meets-hip-hop anthem "All Black" would be her combat theme song. On it, she reveals her tactic for fooling enemies: "All black down to my shoes, they can't see me coming." The track appears on her November 2016 album, Die Every Day.
"Love Is Stronger Than Pride" by Amber Mark
Sade devotees can rest assured that this cover of the English singer's 1988 tune "Love Is Stronger than Pride" is a satisfying revival — just with more bass. Thirty years later, New York-based singer Amber Mark sticks to Sade's script for the most part, but she's sure to bring the moody and husky quality of her vocals to the track, which describes an imperfect love situation. Sade even gave the cover — a highlight from Mark's May 2018 EP Conexão — a stamp of approval, Mark told Billboard in May. "She sent back a message wishing me all the success and saying she absolutely loved it," Mark said.
"Trouble On Central" by Buddy
Buddy is yearning to experience life beyond his uneasy Compton, Los Angeles, dwellings on the mellow g-funk track "Trouble on Central," from his July debut album, Harlan & Alondra. The project is named after the street intersection where he grew up, according to Fader. Though the 24-year-old's record just arrived recently, it's actually been almost decade since he signed to Pharrell Williams' Star Trak, a label he is no longer working with. (Buddy is now signed to RCA, the label that put out his debut.) In the interview with Fader, Buddy describes the project as more "insight into who I am as a person, my family and upbringing."