Mollie Tibbetts' murder suspect was just arrested, and the right is already politicizing her death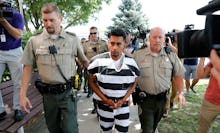 After police announced Tuesday they had arrested a suspect in connection with the death of missing Iowa college student Mollie Tibbetts, it took only a few hours for Republicans to start politicizing the tragedy.
Law enforcement officers initially claimed 24-year-old Cristhian Bahena Rivera — who was charged with first-degree murder Wednesday after reportedly leading investigators to Tibbetts' body in a cornfield near Brooklyn, Iowa — was an undocumented immigrant from Mexico who had been living in the United States unlawfully for years.
However, Rivera's attorney, Allen Richards, said in a court document filed just before 9:30 a.m. Central on Wednesday that his client had, in fact, been living and working in Iowa legally. Richards also criticized President Donald Trump for prematurely weighing in and politicizing the issue in a move that could potentially "poison the entire possible pool of jury members."
Trump addressed the news of Rivera's arrest during a rally Tuesday in West Virginia, where he simultaneously molded the narrative to fit his hardline immigration agenda.
"You saw what happened to that incredible, beautiful young woman," Trump said onstage. "It should have never happened … the immigration laws are such a disgrace."
Before long, other conservatives followed the president's lead, turning Tibbetts' killing into the latest partisan boon to the White House's national crackdown on immigration and asylum claims.
Shortly after Trump's remarks, Sen. Tom Cotton (R-Ark.) tweeted Tibbetts "would have been alive if our government had taken immigration seriously years ago."
The Daily Caller's Benny Johnson posted a vitriolic Facebook rant Wednesday in which he called Rivera a "third-world monster."
"This human garbage had spent six years (!) in our country illegally being shielded, protected & humanized at every turn by the policies of national Democrats," Johnson wrote. "This bastard crossed our borders illegally and even though he does not share our culture, worldview or value system he was allowed to stay long enough to murder an American in the prime of her life & leave her body in the dirt for 34 days."
Far-right media personality Candace Owens tweeted Wednesday that leftists had "boycotted, screamed and cried when illegal immigrants were temporarily separated from from their parents" as part of the Trump administration's policy of separating asylum-seeking parents from their children at the U.S.-Mexico border.
"What will they do for Mollie Tibbetts?" Owens asked. "What did they do for Kate Steinle? They will NEVER see their parents again."
In response to Owens' tweet, a woman named Samantha Lucas, who claimed to be Tibbetts' second cousin, said the family should be able to grieve without becoming "political propaganda" for the right.
"Hey i'm a member of mollie's family and we are not so fucking small-minded that we generalize a whole population based on some bad individuals," Lucas wrote on Twitter. "Now stop being a fucking snake and using my cousins death as political propaganda. Take her name out of your mouth."
In a separate tweet, Lucas said her "whole family is hurting right now," adding that the increased attention and scrutiny from Owens and her conservative fan base was "not helping."
"You're despicable and this is so far from the loving and kind soul that Mollie was," Lucas wrote. "My prayers go out to you in hopes that maybe you'll become a better person. Not hedging my bets tho."
The impulse to make Tibbetts' murder a conservative talking point is particularly noteworthy given Republicans' penchant for calling out their political rivals for advocating for gun reform in the wake of mass shootings.
After a gunman opened fire on the crowded Las Vegas Strip in October, killing 59 people and injuring dozens more in what is widely believed to be the deadliest mass shooting in modern U.S. history, Sen. John Cornyn (R-Texas) called attempts by Democratic lawmakers to pass gun control legislation "fairly predictable."
"Politicizing this terrible tragedy is, I think, beyond disgusting," Cornyn said at the time.