Mic Daily: The growing shadow engulfing Trump's presidency — and other top stories of the day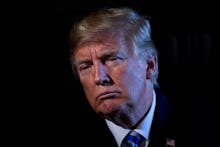 Welcome to Mic Daily: Mic's newsletter that cuts through the noise and lands in your inbox every weekday. We carefully curate each edition to send you a cross section of our most vital stories of the day.
Want more entertainment news in your inbox? Sign up for Hype Daily — Mic's morning entertainment roundup. It's got all the news you need to start your day.
On Tuesday afternoon, the president's former campaign manager Paul Manafort was found guilty on eight bank and tax fraud charges stemming from special counsel Robert Mueller's Russia investigation — verdicts that could send him to prison for the rest of his life.
Simultaneously in New York, Trump's former longtime personal lawyer and fixer Michael Cohen pleaded guilty to eight charges — and, perhaps most significantly, implicated his former boss in the process.
It was a remarkable one-two punch that could have major political and legal ramifications for the president, and could be one of the defining moments of our political era.
After police announced Tuesday they had arrested a suspect in connection with the death of missing Iowa college student Mollie Tibbetts, it took only a few hours for Republicans to start politicizing the tragedy.
Trump addressed the news of Rivera's arrest during a rally Tuesday in West Virginia, where he molded the narrative to fit his hardline immigration agenda.
"You saw what happened to that incredible, beautiful young woman," Trump said onstage. "It should have never happened … the immigration laws are such a disgrace."
When the news came down that Michael Cohen, President Donald Trump's longtime lawyer and political "fixer," had pleaded guilty to eight felony counts on Tuesday afternoon, the bigger story wasn't that Cohen's shady history of underhanded dealings had finally caught up to him. Rather, it was his admission that an elaborate plot to dole out hush money payments to two women in order to prevent them from derailing the 2016 election with damning allegations against then-candidate Trump had actually been orchestrated by the president himself.
Despite the major implications of Cohen's bombshell testimony, which effectively names the president of the United States as an alleged co-conspirator in a federal crime, Republicans on Capitol Hill have remained largely silent on what the news would mean for the White House in the immediate aftermath of the Tuesday court proceedings.
Here is a running list of reactions — and notable obfuscations — from some of the most prominent figures in the GOP.
Over the weekend, Nicki Minaj used Twitter to publicly complain about her fourth album, Queen, debuting at No. 2 on the Billboard 200 — behind Travis Scott's Astroworld, which spent its second week in the top spot.
In short, Minaj feels that Scott besting her was rooted in label trickery and a media blast from Kylie Jenner, with whom Scott has a child. Now, regardless of the album's chart placement, even the most ardent Nicki Minaj fan is prone to admit that the rollout for Queen has been less than ideal.
In this week's entry of Transplaining, Mic correspondent Serena Daniari's advice column on gender identity, a reader asks how to best support their transgender friend. The question is:
One of my greatest friends is a transgender man who has been out for just over two years. At times, they struggle a great deal with their dysphoria, combined with very severe depression and PTSD. My question is: How can you help a friend with dysphoria or a fear of not passing?