Hype Daily: Asia Argento's accuser speaks out — and other entertainment stories of the day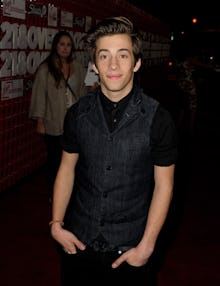 Welcome to Hype Daily, Mic's morning entertainment roundup. Here's everything you need to catch up on in the entertainment world and what to look forward to today. If you haven't already, subscribe here to receive Hype Daily as an email in your inbox every morning during the week.
Good morning, folks. Here are the stories in entertainment you need to get your morning kicked off right.
Asia Argento's accuser, Jimmy Bennett, releases his first public statement
Sunday, the New York Times reported actor and director Asia Argento — an outspoken accuser of Harvey Weinstein — had inappropriate sexual relations with actor and musician Jimmy Bennett in 2013, when he was 17 and Argento was 37. (Argento has denied the accusations of sexual misconduct, saying the two were friends only.)
For the first time since the report came out — which alleged Argento agreed to pay Bennett $380,000 to keep him quiet — Bennett has released a statement of his own.
"I did not initially speak out about my story because I chose to handle it in private with the person who wronged me," Bennett said, according to Variety. "My trauma resurfaced as she came out as a victim herself. I have not made a public statement in the past days and hours because I was ashamed and afraid to be part of the public narrative."
Bennett goes on to say he was afraid of the "stigma" that comes with being a man who is a victim of a sexual assault, which contributed to his staying silent, saying he "didn't think that people would understand the event that took place from the eyes of a teenage boy."
"I have had to overcome many adversities in my life, and this is another that I will deal with, in time," Bennett added. "I would like to move past this event in my life, and today I choose to move forward, no longer in silence."
The Big Bang Theory is finally coming to an end
After its upcoming 12th — 12th! — season, The Big Bang Theory will finally cease production.
"We, along with the cast, writers and crew, are extremely appreciative of the show's success and aim to deliver a final season, and series finale, that will bring The Big Bang Theory to an epic creative close," Warner Bros. Television, CBS and Chuck Lorre Productions said in a joint statement, according to Entertainment Weekly.
The sitcom's final season will kick off Sept. 24. And now, the following paragraph will either be very good or very bad news depending on your view of The Big Bang Theory. Ahem.
The Big Bang Theory is the longest running multi-cam series in history. Reruns of the show will likely play on TV for decades and will continue to rake in obscene amounts of cash for all involved. Also, Young Sheldon still exists.
Kevin Spacey is potentially facing another sexual assault charge
Actor Kevin Spacey could face another sexual assault charge, according to the Hollywood Reporter.
This latest case is the second to be presented to the Los Angeles County District Attorney's office against the disgraced actor. Spacey is also under investigation for six alleged incidences of sexual misconduct in the U.K.
In October, BuzzFeed News published the accounts of actor Anthony Rapp, who alleged Spacey — who was 26 at the time — made sexual advances toward Rapp when he was 14. Since then, several others — including at least eight members of the crew of the Netflix show House of Cards — have accused Spacey of similarly "predatory" behavior.
As a result of the accusations against him, Netflix fired Spacey from the final season of House of Cards.
Put this on your radar (or maybe don't!): The Happytime Murders
This is less of a recommendation and more of a "Oh, this exists, apparently," sort of situation.
A sort of South Park-y, look-we're-saying-bad-words-isn't-this-funny, R-rated comedy, The Happytime Murders, comes out Friday. It stars Melissa McCarthy and a bunch of muppets. The film is supposed to be a raunchy take on the sunny world of Sesame Street, instead depicting a world in which muppets are just as messed up as the rest of us and resort to crime, drugs and — gasp — bad words. It's being directed by Brian Henson, the son of legendary puppeteer Jim Henson. Did I mention the puppets say bad words?
Here's the thing: It's probably very bad. Reviews are only just starting to trickle in, just a couple of days before the movie's release date, which is usually an indication the studio knows the movie won't be very well received. If a studio is confident in a film, it'll typically do everything it can to get critics to see it early in the hopes they'll write a positive review and generate buzz.
According to Vanity Fair writer Richard Lawson, "not a single bit lands in The Happytime Murders. McCarthy sometimes comes close, as does [Maya] Rudolph — but what surrounds them is so aggressively, lamely crass that it would take a true Herculean effort to elevate anything in the film to laugh-worthy."
Sounds like a hoot. You can watch the trailer here.