Gameheads teaches game design to Oakland's youth, and it's hoping to reshape the gaming industry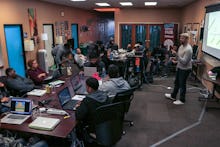 Imagine a role-playing game where the main character battles stereotypes instead of monsters. Or a story-driven game about a queer hero who struggles with being forced to see the world how her parents do. On Aug. 25, these games and more will take centerstage at a showcase sponsored by Gameheads — the company dedicated to teaching youth of color and students from low-income backgrounds how to design video games.
Gameheads, founded in 2014, is a non-profit based in Oakland, California's United Roots Youth Impact Hub. The program — which is meant for students and youths between the ages of 11 through 24 — intends to use video games as a gateway to get kids interested in STEAM-related fields.
Damon Packwood, Gameheads' executive director, co-founded the program, believing that it's important to meet kids halfway when attempting to teach them computer science. "I could walk into a classroom and guarantee about 30 of those kids are hopping online to play a video game the moment they get home," Packwood said in a call with Mic. "Why teach them just coding when you can reach them where they're at and show them how to make a game?"
Packwood stresses that game design isn't too far off from the arts many kids in Oakland already indulge in. "Video games are every kind of art," he said. "We say, why not transfer over those skills to make a game? If you already know how to draw, all we have to teach you is Adobe Photoshop or Autodesk Maya. If you make music, you can design the sound of a game. If you do dance or do performative art, you can design the movements of a game."
"When parents start seeing the actual games that students have created or how attractive it can be to colleges, that's when they start to get it." — Damon Packwood, executive director of Gameheads
Teaching children to create video games can leave them with an introduction into coding and computer design skills. Though, on its face, the program may seem unappealing to parents who want their kids spending less time with video games, not more.
"The program is an easy sell to the kids," Packwood said. "It's a harder sell to the adults: parents as well as investors." He continued, saying, "Parents are worried about violent video games because those are the ones that get marketed often, but we don't expose the students to those games."
According to Packwood, the program works with lesser-known indie titles, which, he said, tend to carry more meaning. "When parents start seeing the actual games that students have created or how attractive it can be to colleges, that's when they start to get it."
On Aug. 25, Gameheads students will showcase a range of games — some which are more traditional, and some which are a little headier — but it's the more left-of-center games that really stand out. One title, Here's Your Change, tells a tale of gentrification. The Groundz is a dodgeball game where the various levels are actually different recreation and youth development centers in Oakland. The role-playing game Offbeat centers on an Asian-American man who fights stereotypes and society's demands of being the model minority, all while he's on a quest to realize his actual dream: becoming a house husband.
"We noticed the changes in the community and wanted to make a game that addressed that," Quyen Vi, a 20-year-old student at the University of California, San Diego, who was involved in the making of Here's Your Change, said in a call. "The demo of the game is split into three parts: pre-gentrification, during gentrification and post-gentrification." As you play, the game changes in look and sound. The local store players visit goes from accepting cash to accepting credit card to, finally, accepting digital payments only.
A game like The Groundz falls under the popular sports genre, but it takes place somewhere unique. "I wanted to incorporate some of the ideas that Damon had taught us about in the program," Hyakub Herring, a 23-year-old grad student at New York University and a Gameheads student who worked on The Groundz, said in a phone interview with Mic. "What The Groundz does, it meshes the Super Smash Bros. feel — with numerous characters and special abilities — with a sports game, but adds in that added cultural context of being a game with street style. That's not something you usually see in a mainstream video game."
Gameheads' end goal is to address the lack of underrepresented groups in tech and gaming companies. According to Packwood, the company's mission goes beyond simply teaching students how to design a game, but also involves shaping students' view of who gets to be a game developer. "We believe that you can't be what you can't see," Packwood said. "One goal of our program is behavioral change. When our students work on development teams we give them titles: level designer, sound designer, art designer. We want our kids to identify with that."
The program seeks to further address tech and gaming's racial imbalance by altering students' perception of what a tech company looks like. "It's important to expose [students] to people who look like them," Packwood said. And then, when Gameheads' students get hired at different companies and notice the lack of diversity, they should "find the situation bizarre," Packwood explained. "From there they start disrupting things."