Trump promotes white nationalist propaganda about South Africa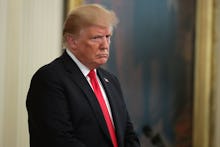 President Donald Trump late Wednesday night said he has directed Secretary of State Mike Pompeo to "closely study the South Africa land and farm seizures and expropriations and the large scale killing of farmers" — a reference to white nationalist propaganda warning of a "white genocide" in the country.
Trump's tweet, which was praised by former Ku Klux Klan leader David Duke, came just after Tucker Carlson dedicated a segment of his Fox News program to the bogus conspiracy, which has been promoted by white nationalists and members of the alt-right.
The conspiracy theory originally sprouted from a plan by the South African government to amend the country's constitution to allow the government to seize land without compensation. The move was made to address historical inequalities in land ownership between black South Africans and the country's white minority that have persisted since apartheid ended in 1994.
Whites, who account for just 8% of South Africa's population, own 72% of the country's individually owned farm and agricultural land, according to the government's Land Audit report in November. The government had previously used a buyback model to purchase white-owned farms to redistribute to black South Africans, but the ruling African National Congress decided to amend the constitution to allow for expropriation without compensation in order to speed up restitution.
It's a controversial move, to be sure, and has since been seized on by white nationalists in the United States and Europe as proof of a "white genocide," as the alt-right conspiracy theorist Mike Cernovich characterized it in 2016.
The conspiracy theory — which has its origins in South African right-wing groups, including AfriForum — posits that the government has already begun seizing white-owned land, and that white farmers are being killed and tortured at high rates in an effort to cleanse South Africa of its white minority.
But, as the New York Times notes, "there is no evidence" to support this claim. Though the government is likely to change its constitution, it has not done so yet. And the more explosive charge — that white farmers are being systematically killed — does not appear to be borne out by the facts. Farmer killings are actually at a 20-year low, according to statistics released in July.
Nevertheless, Carlson has taken up the cause, and on his program Wednesday lambasted American "elites" who take issue with racist rhetoric and policies promoted by Trump but have paid "no attention" to what's happening in South Africa.
"Racism is what our elites say they dislike most — 'Donald Trump is a racist,' they say," Carlson said. "But they've paid no attention to this at all."
Carlson also admonished Pompeo for what he characterized as a failure to react on the part of the Department of State.
"'Nothing to see here,' says Mike Pompeo's State Department," the Fox News host said.
It's not clear what the Trump administration could, or would, do to get involved in South Africa's land controversy — especially considering that the U.S. has not had an ambassador to the country since December 2016 because Trump has not yet appointed anyone to the post.
Still, Trump's tweet Wednesday was met with anger from the South African government, which characterized his unsubstantiated claim as "misinformed."
"South Africa totally rejects this narrow perception which only seeks to divide our nation and reminds us of our colonial past," the South African government tweeted Thursday. "South Africa will speed up the pace of land reform in a careful and inclusive manner that does not divide our nation."