Movement Must-Reads: Aretha Franklin, Gullah cuisine and Marlene Gebhard's painful evolution on race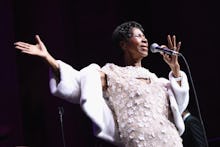 Topics covered in this week's edition of the newsletter range from Aretha Franklin's civil rights legacy to how natural disasters perpetuate racial disparities and the rich culture and cuisine of the Gullah people.
Plus, a new thing we're trying that will hopefully get you more actively involved in the newsletter. Read on for more.
From Mic:
Aaron Morrison on Marlene Gebhard, a white retiree from the St. Louis area who became a police reform advocate after her black biracial grandson, Tyler Gebhard, 20, was shot and killed by St. Louis County law enforcement in July 2016.
The accompanying Mic Dispatch episode can be viewed here.
Kelly Kasulis on how natural disasters — floods, wildfires, hurricanes and the like — disproportionately impact nonwhite communities and widen racial wealth gaps.
Michael Arceneaux on the civil rights legacy of the late Aretha Franklin, who famously offered to pay bond for the incarcerated professor and activist Angela Davis in 1970.
And Adrienne Jordan on the culinary culture and history of the Gullah people, black communities native to islands off the coasts of South Carolina, Georgia and Florida, who can trace their ancestry centuries back to West Africa.
From elsewhere:
"The victims of climate change are already here" — a sobering assessment of global warming's impact on black and brown people in the United States, via the Atlantic.
Following a brawl at an Asian-owned nail salon in East Flatbush, New York, an insightful overview of black-Asian relations in the U.S. in the context of retail and customer service, via Refinery29.
The Guardian on a prison strike that broke out across North America this week, in which incarcerated people from California to Washington state, and possibly down to Florida, Georgia and as far north as Nova Scotia, Canada, are calling for improved living conditions and an end to life without parole sentences, among several other demands.
And Star Wars Episode VIII: The Last Jedi star Kelly Marie Tran breaks her silence on leaving social media after enduring racial harassment from angry fans, via the New York Times.
Today's question
This is the aforementioned "new thing" we're trying. Your general feedback is always appreciated, but we'd especially like to get your thoughts on a specific topic, outlined below. Send your comments to zak@mic.com, and they could be featured in next week's newsletter!
This week's question is:
Robert McCulloch's tenure as St. Louis County's prosecuting attorney has been marked by controversy — from his refusal to prosecute Officer Darren Wilson for killing Michael Brown in 2014, to his decision not to charge Officer Joshua Lasley for killing Tyler Gebhard.
What, if anything, should McCulloch's presumptive successor — Wesley Bell — do to restore trust in the prosecutor's office among black communities in the St. Louis area?
That's all for now. Until next week.
— Zak Cheney-Rice, editor, The Movement