Betsy DeVos reportedly mulling a plan to allow school districts to buy guns with federal money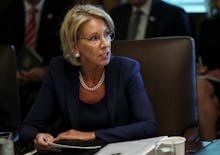 Education Secretary Betsy DeVos is reportedly eyeing a plan that would allow states to use federal funds to arm teachers — a move in opposition to the funding package passed by Congress in March, which expressly stipulates that money to increase school safety should not be used on firearms.
In March, galvanized by a school shooting in Parkland, Florida, that killed 17 students and faculty members a month prior, Congress passed the Students, Teachers and Officers Preventing School Violence Act of 2018. The legislation awarded schools across the country $50 million in grants for the purpose of strengthening security and creating new mechanisms to evaluate threats on campus.
That plan stopped short of allowing the funding to be used to arm teachers — a policy that President Donald Trump has fervently supported, and which gun violence awareness groups and teachers themselves have balked at.
According to the New York Times, DeVos has found a workaround. She has instead set her sights on using funds from a separate federal program known as the Student Support and Academic Enrichment grants. That plan — which allocates $1 billion toward goals like improving digital literacy and improving conditions in some of the nation's poorest schools — doesn't sanction weapons purchases, But it doesn't specifically prohibit them, either.
By using the federal program, which was conceived of as part of the Every Student Succeeds Act signed into law by former President Barack Obama in 2015, officials run the risk of undermining its stated goal of "drug and violence prevention," which its guidelines currently define as cultivating a weapon-free school environment, according to the Times.
Scant research is available on the efficacy of policies to arm teachers. Gun reform advocates have maintained that the best way to reduce preventable shooting deaths is to enact common-sense legislation aimed at spotting the warning signs of violent behavior and making it more difficult for dangerous people to obtain weapons in the first place.
"This is what happens when a federal commission to combat school shootings fails to include a single gun safety group," Avery Gardiner, co-president of the Brady Campaign to Prevent Gun Violence, said in a statement. "The way to prevent shootings isn't adding more guns to our schools — it's taking action to keep them out of the hands of dangerous people."
News of the plan comes after a monthslong series of public hearings hosted by a newly established commission on school safety, led by DeVos. In June, DeVos drew widespread criticism after she announced the commission would not be investigating the role of gun violence in school safety.
"That is not part of the commission's charge, per se," she told Congress at the time.
Officials familiar with the plan to use federal funds to arm teachers told the Times that it would likely mark the first time in U.S. history that a federal agency had skirted congressional mandate in authorizing the purchase of weapons.
"The department is constantly considering and evaluating policy issues, particularly issues related to school safety," Liz Hill, spokesperson for the Education Department, told the Times in a statement. "The secretary nor the department issues opinions on hypothetical scenarios."
The announcement also comes as young people across the United States are centering gun violence prevention as a key issue ahead of the 2018 midterm elections.
In August, Jaclyn Corin — one of the survivors of the Parkland shooting and a key organizer in the March for Our Lives movement, which seeks to encourage literacy around gun violence prevention — told Mic that with the youth engagement she's seen, it will be "100% possible" to win on the issue of gun reform come November.
"It's always been possible," Corin said. "Those who said it wasn't before haven't been paying attention."