Sen. Kamala Harris introduces bill to fight black maternal health disparities. Here's what to know.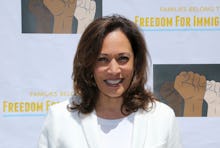 Sen. Kamala Harris (D-Calif.) on Wednesday introduced the Maternal Care Access and Reducing Emergencies Act, described in a statement as an effort to "reduce the racial disparities in maternal mortality and morbidity."
"This bill is a step towards ensuring that all women have access to culturally competent, holistic care and to address the implicit biases in our system," Harris said.
Thirteen of Harris' Democratic colleagues joined her in introducing the bill, which takes aim at what has become an urgent health care issue in the U.S. — where black women are three to four times more likely than white women to die from pregnancy-related causes, according to the release.
The Maternal CARE Act calls for the creation of two grant programs to help alleviate these disparities. One competitive grant will support implicit bias training at medical schools, nursing schools and health training programs to address how black women are treated at health care facilities, with special attention to obstetrics and gynecology.
The second grant program will help maternal health care providers in up to 10 states support pregnancy medical home programs, which are designed to improve health care access, support and outcomes for the pregnant Medicaid population.
"The bill will focus on training in medical schools, which I think is important because that's where we start off in our training and we don't talk about race in our medical training," Dr. Aisha Wagner, a California-based family medicine physician and fellow with Physicians for Reproductive Health, said in an interview. "I would love it if that eventually turned into curriculum instead of just a training."
The CARE Act also calls on the National Academy of Medicine — a nongovernmental organization that provides "objective advice on matters of science, technology and health" — to supply recommendations for recognizing bias in clinical skills testing at medical schools.
The bill continues Harris' efforts to draw attention to black maternal health disparities. In April, Harris and 11 of her Senate colleagues introduced a resolution designating April 11 to April 17 as Black Maternal Health Week.