Mic Daily: Trump wants to "study" South Africa — and other top stories of the day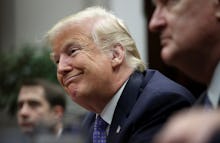 Welcome to Mic Daily: Mic's newsletter that cuts through the noise and lands in your inbox every weekday. We carefully curate each edition to send you a cross section of our most vital stories of the day.
Want more entertainment news in your inbox? Sign up for Hype Daily — Mic's morning entertainment roundup. It's got all the news you need to start your day.
Education Secretary Betsy DeVos is reportedly eyeing a plan that would allow states to use federal funds to arm teachers — a move that conflicts with the funding package passed by Congress in March, which expressly stipulates that money to increase school safety should not be used on firearms.
DeVos, apparently, has found a workaround.
President Donald Trump said late Wednesday he has directed Secretary of State Mike Pompeo to "closely study the South Africa land and farm seizures and expropriations and the large scale killing of farmers" — a reference to white nationalist propaganda warning of a "white genocide" in the country.
Former Ku Klux Klan leader David Duke praised the tweet.
Sen. Kamala Harris (D-Calif.) on Wednesday introduced the Maternal Care Access and Reducing Emergencies Act, described in a statement as an effort to "reduce the racial disparities in maternal mortality and morbidity."
"This bill is a step towards ensuring that all women have access to culturally competent, holistic care, and to address the implicit biases in our system," Harris said.
Reality Winner, a former government contractor who pleaded guilty to leaking classified documents about Russia's hacking attempts in the 2016 election, was sentenced Thursday to more than five years in prison. She is the first whistleblower to be prosecuted under the Trump administration's crackdown on leaked classified information.
A plotless slice-of-life portrait crossed with a quasi-mainstream comedy, Support the Girls follows an ensemble of working-class women during a not-so-average day at the Hooters-esque restaurant Double Whammies, located right off of a suburban Texas highway.
Every day at Double Whammies, employees are expected to look good, serve food and beer, and flirt with the customers. Meanwhile, Lisa watches over the place and tries to keep the peace the best she can. It's a deceptively simple job that contains a whole host of difficulties built into it.