What you need to know about the nationwide prison strike for wages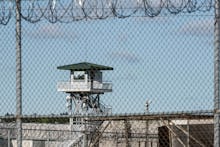 A riot broke out the night of April 15 at Lee Correctional Institution in South Carolina, where seven inmates were killed and many more hospitalized. South Carolina Gov. Henry McMaster reacted with an executive order that gave correctional officers a raise. The response was inadequate, say the activists now leading a prison strike across the United States and Canada.
"Men and women incarcerated in prisons across the nation declare a nationwide strike in response to the riot at Lee Correctional Institution," said an April 24 press release from Jailhouse Lawyers Speak. "Seven comrades lost their lives during a senseless uprising that could have been avoided had the prison not been so overcrowded from the greed wrought by mass incarceration, and a lack of respect for human life that is embedded in our nation's penal ideology."
Months in the making, the protest is now underway across the country.
"We're sending out the message that unless things change, you're risking another Attica," one organizer told a reporter at the Intercept, referring to the famously violent prison riot.
Who is protesting, and how?
A coalition of several prisoner groups, including Jailhouse Lawyers Speak and Incarcerated Workers Organizing Committee, have declared a national prison strike from Aug. 21 to Sept. 9. The dates are intentional. Aug. 21 is the anniversary of the death of George Jackson, an author and prison activist who was killed by a guard in 1971. Meanwhile, Sept. 9 is the anniversary of the beginning of the Attica riot that same year, which was held in part as a reaction to Jackson's death. The largest prison strike in American history also began Sept. 9, 2016.
Declared methods of protest include not reporting to assigned jobs, boycotting spending at commissary, holding sit-ins and refusing food.
The spokespeople for the strike said in a press release Wednesday that they've received word of participation at prisons in North Carolina, South Carolina, Georgia, Washington and California so far. They also said they believe actions are occurring elsewhere, but departments of corrections in various states are going into lockdown and perhaps jamming phone lines so prisoners can't communicate with organizers, their families or the media.
While organizers say this strike is in reaction to the Lee Correctional Facility deaths, the theme echoes the complaints noted in 2016 — that the unpaid or underpaid labor of prisoners is akin to slavery. "End Prison Slavery" and "Slavery Never Ended" are two of the mottos emblazoned on official posters.
What are the demands?
Strike organizers have posted 10 demands, including a minimum wage identical to their state's minimum wage. The Prison Policy Initiative has found the average prison wage nationwide is less than a dollar an hour — and in several states, inmates aren't paid at all.
"All persons imprisoned in any place of detention under United States jurisdiction must be paid the prevailing wage in the state or territory for their labor," the organization said in a release. They've also requested the repeal of the Prison Litigation Reform Act (which makes it harder for prisoners to file lawsuits in federal court) and the Truth in Sentencing and Sentencing Reform acts (which require prisoners to serve a longer percentage of their sentence, making it more difficult to be released early for good behavior).
"The average prison wage nationwide is less than a dollar an hour — and in several states, inmates aren't paid at all."
Several of the strike's demands relate to race, including a demand that black people "shall no longer be denied parole because the victim of a crime was white, which is a particular problem in southern states."
Have politicians reacted?
While former President Barack Obama championed the cause of prison reform, today it's harder to find politicians willing to discuss the topic — including the strike. Rep. Ro Khanna (D-Calif.) expressed on Twitter some solidarity with the prisoners, as did the Democratic Party's rising star, congressional candidate Alexandria Ocasio-Cortez of New York.
The Democratic Socialists of America has endorsed the protest, as did the American Civil Liberties Union.
Is it likely politicians will meet their demands?
The outcomes of prison strikes are mixed. The more shocking the protest methods, the more likely the protests are to get attention and thus results. Hunger strikes, for example, have previously led to actual reform. When 30,000 California inmates participated in a hunger strike in 2013 to protest solitary confinement and other prison policies, some of their demands were met — indeterminate solitary confinement is no longer permitted.
The methods of this strike — namely, work stoppages — mirror the protest of 2016, which was the largest in American history and resulted in little change. Considering Attorney General Jeff Sessions has actually advocated for longer sentences and easier imposition of the death penalty, the current outlook for change is even more pessimistic.
How is it legal to pay prisoners so little?
All incarcerated people are required by the federal government to work if they are able. Common inmate jobs include those related to the prison itself, like cooking or cleaning; prisoners sometimes work for outside companies via deals arranged at state-owned correctional facilities. (Sewing underwear that later ends up in lingerie stores is more than just an Orange is the New Black storyline.) Many inmates are paid just pennies per hour, and about 80% of their meager paychecks are eaten up by deductions for taxes, victim's restitution, child support and more.
The 13th Amendment to the Constitution, ratified Dec. 6, 1865, states: "Neither slavery nor involuntary servitude, except as a punishment for crime whereof the party shall have been duly convicted, shall exist within the United States or any place subject to their jurisdiction." In other words, when a person is convicted of a crime, they may be punished with work — and further punished when they aren't paid fair wages for such work.