'National Enquirer' publisher David Pecker gets immunity for dishing to feds about Cohen, Trump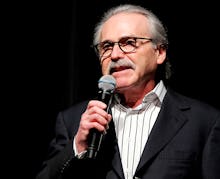 David Pecker, CEO of the National Enquirer's parent company, was granted immunity in exchange for providing federal authorities with key information related to President Donald Trump and Michael Cohen, according to new reports.
Pecker, a longtime friend of both Trump and Cohen, has met with prosecutors and the information he provided appears to have helped form the basis for some of the eight charges the president's former attorney and fixer admitted to on Tuesday.
Pecker and Dylan Howard, chief content officer at the Enquirer's parent company, American Media Inc., were given immunity when they gave prosecutors details about Cohen's arrangements in 2016 to silence porn actress Stormy Daniels and Playboy model Karen McDougal, both of whom say they had affairs with Trump years earlier, according to Vanity Fair, which first reported on the immunity deal Wednesday.
The reporting was corroborated by the Wall Street Journal, which first reported Pecker's cooperation with prosecutors and noted that Pecker and Howard's assistance seems to have "informed the charging documents" in the Cohen case.
Cohen on Tuesday pleaded guilty to eight federal charges, including two campaign finance violations related to the hush agreements he set up to keep Daniels and McDougal from discussing their alleged affairs with Trump in the lead-up to the 2016 presidential election.
He directly implicated the president in his criminal activity, telling a New York court Tuesday that he broke campaign finance laws "in coordination with and at the direction of a federal candidate for office" — a clear reference to Trump — and said they did so "for principal purpose of influencing election."
The allegation has put Trump in significant legal and political jeopardy, and both the president and his White House have struggled to mount a coherent response to the scandal.
Trump has attempted to discredit Cohen and to insist that the violations did not amount to crimes.
Sarah Huckabee Sanders, the White House press secretary, refused to directly answer questions about the illegal hush payments during a press briefing Wednesday, instead repeating that the president did "nothing wrong" and that "there are no charges against him."
But that hasn't done anything to ease the pressure that's mounted on the president since Cohen pleaded guilty Tuesday, the same afternoon former Trump campaign chairman Paul Manafort was convicted on eight bank and financial fraud charges stemming from special counsel Robert Mueller's Russia probe.
Some legal analysts have characterized Trump as an unindicted co-conspirator in Cohen's campaign finance violations, and some of the president's allies have suggested the stunning Cohen allegation Tuesday increases the chances of impeachment if Democrats gain control of Congress in November, as they appear poised to do.
Pecker's cooperation with authorities would seem to increase the already intense pressure on Trump.
He and the Enquirer were involved in each of the campaign finance violations Cohen pleaded guilty to Tuesday.
Cohen paid $130,000 to Daniels — who says she had an affair with Trump in 2006 — in the run-up to the 2016 election. He also arranged a $150,000 payment from the Enquirer to McDougal for the rights to her story, which they buried in what's referred to in the industry as a "catch and kill."
Prosecutors say the payouts amounted to illegal campaign contributions, as they were made with the goal of impacting the election.
The administration initially claimed Trump had no prior knowledge of the hush deals, but a recording released in July seemed to feature Trump and Cohen discussing the McDougal arrangement. In an interview with Fox & Friends Wednesday, Trump insisted he didn't know about the payments until "later" but claimed in the same interview that the money "didn't come out of the campaign" but from his own pocketbook.
Pecker is only the latest Trump insider to apparently provide information to investigators that could be damaging to the president.
On Saturday, it was reported that White House counsel Don McGahn has been cooperating with the Mueller probe, interviewing with the special counsel's team for 30 hours over the course of nine months about episodes central to the FBI's inquiry into possible obstruction of justice on the part of the president, including his May 2017 firing of FBI director James Comey.
Cohen himself is willing to provide information about Trump to investigators, according to Lanny Davis, the attorney representing Cohen.
Davis has said Cohen has "knowledge on certain subjects" related to possible collusion between the Trump campaign and the Kremlin that he's willing to provide Mueller, who is investigating Russian interference in the 2016 election. He's also hinted that Cohen, who had for years been entrusted to handle Trump's most sensitive personal and professional matters, had information that could be useful to the New York attorney general's office, which is investigating the Trump Foundation; New York investigators issued a subpoena to Cohen on Wednesday as part of that probe.
Davis has also suggested Trump should be prosecuted for Cohen's campaign finance violations, as well.
"If those payments were a crime for Michael Cohen then why wouldn't they be a crime for Donald Trump?" Davis tweeted Tuesday.