A stagnant bid for Senate may be the last stand of Joe Arpaio, America's "toughest sheriff"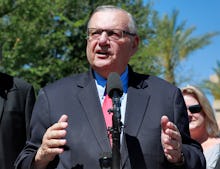 When Joe Arpaio announced in January that he would run for the Republican nomination in Arizona's open Senate contest, many in the GOP worried the highly controversial 86-year-old former Maricopa county sheriff could imperil the party's chances in a must-win race come November.
However, according to recent polling ahead of the Aug. 28 primary, Arpaio sits a distant third in the three-candidate Republican primary field hoping to keep this Senate seat in GOP hands. And ironically, Arpaio may have helped the Republican party in the race. His candidacy has split the far-right primary vote between himself and another right-wing Senate hopeful, Kelli Ward. This looks to have paved the way for establishment-backed GOP Rep. Martha McSally to take the nomination on Tuesday.
"I'm not sure McSally would have defeated Ward without Arpaio," Nathan Gonzales, a non-partisan political handicapper with Inside Elections, said in an interview.
The last stand of America's "toughest sheriff"
Arpaio, a former police officer and head of the U.S. Drug Enforcement Agency's Arizona branch, was first elected as sheriff in south-central Arizona's Maricopa county in 1992. The county, which consists of Phoenix and the surrounding suburbs, is a longtime Republican stronghold.
As the self-proclaimed "toughest sheriff" in America, Arpaio is known for his harsh treatment of inmates in Maricopa County jails, housing them outdoors in the blazing Arizona heat in so-called "tent cities," which he built in 1993 from tents used in the Korean War.
Arpaio himself — who bragged to 60 Minutes back in 2001 that he spent more money feeding prison guard dogs than he did feeding inmates — once referred to the tent cities as "concentration camps" for how poorly inmates were treated there.
The tent cities were only just closed in 2017.
Arpaio was also one of President Donald Trump's earliest supporters, as he backed Trump's anti-immigrant policies. Arpaio himself racially profiled Latinos while he was sheriff in Maricopa County, ordering police officers to round up Latinos and conduct immigration checks without any evidence that they may be in the country without documentation, besides the fact that they looked Latino.
Eventually, a court ruled that the practice was illegal, and ordered Arpaio to stop the practice. But Arpaio refused, and was eventually convicted of criminal contempt in July 2017.
Like the president, Arpaio was a notable "birther" — having pushed the baseless and racist conspiracy theory that former President Barack Obama was not born in the U.S.
Yet as Trump carried Arpaio's state in the 2016 presidential election, the sheriff himself was booted from office after his 24-year tenure that same year, with voters rejecting his candidacy by more than an 11-point margin.
Trump went on to pardon Arpaio a month after he was convicted of criminal contempt. That move that was widely criticized, given that Arpaio showed no contrition for his conviction, and did not meet other benchmarks usually required for a presidential pardon. Arpaio never served a day in jail for his crime.
Ultimately, the final days of Arpaio's campaign have been mired in chaos. His longtime campaign manager is no longer involved in the campaign's day-to-day operations, the Arizona Republic reported on Tuesday. The paper also reported that even Arpaio admitted that his campaign has been "rather stagnant."
In fact, the biggest news his campaign made was an embarrassing appearance on Sacha Baron Cohen's comedy show Who is America?, in which Arpaio did not seem to understand what a "blow job" or a "golden shower" was.
At 86, Arpaio's expected loss in Tuesday's Senate primary looks to be his last moment in the political spotlight.
A blessing in disguise for the GOP establishment
While Republicans initially fretted Arpaio's Senate bid in the wake of his criminal charges and pardon, Arpaio's campaign never really caught fire this year. He was far out-fundraised by his opponents, taking in $1.33 million — far less than Ward's $3.1 million haul and the much larger $7.72 million bounty McSally brought in.
Both Ward and McSally have largely ignored Arpaio in their bids. Even though Trump pardoned Arpaio, he chose not to endorse him in his Senate bid — which likely would have given Arpaio the boost he needs.
Despite the lack of funds raised and snub from the president, Arpaio still has some semblance of support, with polling in the teens to low 20s, according to RealClearPolitics. And that's hurting Ward, who is another far-right candidate who Republicans feared could also imperil their chances of holding onto the seat being vacated by retiring GOP Sen. Jeff Flake — an anti-Trump establishment Republican who cited the political climate the president has created as his reason for leaving office.
To know why Republicans were worried about a Ward nomination, one only has to look toward her behavior over the weekend. After it was announced that Arizona Sen. John McCain had stopped receiving treatment for brain cancer, Ward attacked McCain at a Saturday rally, and went on to suggest in a Facebook post that the announcement that the senator was no longer being treated for his brain cancer was an effort to damage her Senate bid.
"I think they wanted to have a particular narrative that they hope is negative to me," Ward wrote on Facebook, according to the Washington Post.
McCain died just hours after her post.
McSally, meanwhile, is already acting as if she is the GOP nominee.
On Thursday she spoke confidently about her chances at pre-primary rallies, and even released an ad attacking her likely general election opponent in Democratic Rep. Kyrsten Sinema, contrasting Sinema's participation in anti-war rallies as McSally served in the military.
Yet Sinema didn't have a tough primary like McSally did.
McSally will have just 70 days to win over the voters who backed Arpaio and Ward in the primary.
The general election is rated a toss-up by Inside Elections, a non-partisan political handicapping outlet.