Kavanaugh's Supreme Court nomination sparks protests by women of color reproductive rights activists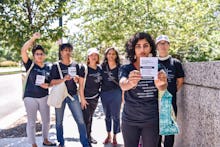 Over 100 women of color reproductive rights activists from across the country gathered at U.S. Senate offices in Washington, D.C., on Thursday to protest the Supreme Court nomination of Brett Kavanaugh.
It is widely assumed President Donald Trump's Supreme Court picks — including Kavanaugh and the already confirmed Neil Gorsuch — will be in a position to decide the future of Roe v. Wade, the landmark 1973 case that made abortion a constitutional right.
Should this right be restricted or revoked in the near future, women of color would suffer the most, Destiny Lopez, protest organizer and co-director of All* Above All, a collective of organizations pushing back against abortion bans nationally, said in an interview.
"A wealthier white woman would be able to access care using her own private insurance or own funds, but that just would not be the case for women of color," Lopez said in an interview. "Women of color are uniquely impacted by abortion restrictions and so that would only deepen. Women already travel hundreds of miles [for abortions]. They would be traveling hundreds of more miles."
Trump previously vowed his nominees would be in favor of restricting or overturning Roe v. Wade, and Kavanaugh seems to fit the bill. In 2017's Garza v. Hargan, which went before the U.S. Court of Appeals for the District of Columbia, Kavanaugh — a D.C. circuit judge — ruled in favor of blocking a 17-year-old undocumented immigrant from getting an abortion.
If Trump further cements the Supreme Court's conservative majority with Kavanaugh's confirmation — and the court agrees to hear a case that puts the legal principles of Roe v. Wade in question — a woman's constitutional right to an abortion could be in jeopardy. This could result in additional power for state legislatures to decide how much access women have to abortion, if it doesn't outlaw abortion outright.
According to Rewire, the impact of such restrictions is already being felt. For example, Jackson Women's Health Organization is the only abortion clinic left in Mississippi, where the majority of those seeking abortions are black women. Missouri lawmakers in January introduced a bill that would ban women from terminating a pregnancy based on which sex they want their baby to be, a move activists said is fueled by anti-Asian tropes.
"This [bill] particularly impacts Asian-American women because of the stereotypes that go with the idea that Asian communities prefer boy babies to girl babies," Sung Yeon Choimorrow, executive director of the National Asian Pacific American Women's Forum, said in an interview.
The activists who descended upon the Senate offices Thursday hope to protect the rights of all American women by letting senators know Kavanaugh should not have a hand in deciding their reproductive rights.
"We are a multigenerational group who have all traveled thousands of miles to be here, to be together and to be unified in one voice to say we want reproductive justice," Lopez said. "And if we want reproductive justice, we have to stop Kavanaugh."