'Top Chef' judge Tom Colicchio's home vandalized with pro-Trump, anti-Democrat graffiti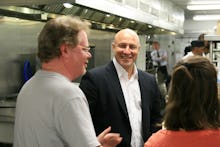 Tom Colicchio's home in Long Island, New York, was vandalized recently with political messages and hate speech. The Top Chef judge tweeted on Tuesday that he and his wife, Lori Silverbush, woke that morning to find their front lawn, mailbox and the street in front of their house covered with graffiti.
In a post on Twitter, Colicchio shared a video showing some of the damage. As seen in the video, the culprits spray-painted the name "Trump" twice, once with a smiley face after it, as well as a message reading "Cuomo = Death To America," referring to New York Gov. Andrew Cuomo. Anyone who follows Colicchio on Twitter knows that the celebrity chef and restaurateur is a very vocal critic of President Donald Trump and his administration.
According to the Hollywood Reporter, the name "Trump" was also spray-painted on the mailbox in front of the couple's home. In addition, the vandals reportedly wrote messages mentioning actress and New York Democratic gubernatorial candidate Cynthia Nixon, Silverbush's name and a reference to "Padhma," meaning Padma Lakshmi, Top Chef host and Colicchio's fellow judge on the cooking competition program. Silverbush tweeted that there was also a defaced Jewish star painted on the scene.
According to Colicchio, the incident was possibly a response after he put up a yard sign expressing support for Democratic congressional hopeful Perry Gershon. Currently, Gershon is running against a longtime Republican congressman, Lee Zeldin. NBC New York noted that Zeldin criticized the person responsible as a "coward who needs to be identified and persecuted."
As of now, it's unclear who committed the vandalism.