Hype Daily: 'Great British Baking Show' is now a Netflix original — and other entertainment news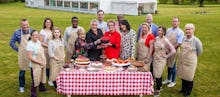 Welcome to Hype Daily, Mic's morning entertainment roundup. Here's everything you need to catch up on in the entertainment world and what to look forward to today. If you haven't already, subscribe here to receive Hype Daily as an email in your inbox every morning during the week.
Good morning, folks. It's Friday. We made it. Here's the news you need to kick your weekend off right.
Great British Baking Show is now a Netflix original series
More seasons of the astonishingly therapeutic hit baking reality series Great British Baking Show are coming to Netflix — and soon.
In fact, the next three seasons of the series will air in the U.S. exclusively on Netflix. Until now, PBS had first dibs on the show here in the States, but apparently, according to Variety, PBS lost the rights to GBBS when the series made its very controversial move from the BBC to Channel 4 in the U.K.
The bad news, in case you're not caught up on what is clearly the most important political issue affecting the U.K., is the hosts of the new seasons of GBBS will not be the ones you know and love. When the Great British Bake Off — as it's called in the U.K. — made the jump from BBC, so too did its three best cast members: Mary Berry, Sue Perkins and Mel Giedroyc. Yes, that means lover of handshakes and hair gel Paul Hollywood is the only remaining cast member from previous seasons. You can read up on the new cast members, Noel Fielding, Sandi Toksvig and Prue Leith over on Eater.
The next season of GBBS will hit Netflix on Aug. 31, which is extremely soon. The subsequent season will hit Netflix later this year and the third will be available sometime in 2019.
On you marks, get set, bake! Do the new hosts even say that now? I haven't seen it. IDK.
Connie Britton and Dylan McDermott are coming back to American Horror Story
Today in news about shows I can't watch because they are too spooky: Connie Britton and Dylan McDermott, stars of the first season of FX's American Horror Story, are coming back for its newest season, according to the Wrap.
The eighth season of the show, titled American Horror Story: Apocalypse, will be a crossover of previous seasons. How, exactly, that's going to work out given that many seasons of AHS feature the same actors in different roles is still somewhat of a mystery, but hey that's Ryan Murphy's headache, not mine. Plus, Apocalypse seems to mostly be a crossover of the first season and its third, the very witchy AHS: Coven — so maybe it won't be too much of a leap in logic.
Other confirmed returning cast members include the following, per the Hollywood Reporter: Jessica Lange, Sarah Paulson, Emma Roberts, Gabourey Sidibe, Lily Rabe, Stevie Nicks, Frances Conroy, Evan Peters, Kathy Bates, Adina Porter, Cheyenne Jackson, Billy Eichner, Leslie Grossman and Billie Lourd.
Also, good news for fans of Pose: Billy Porter, who plays the endlessly magnetic emcee Pray Tell, will make his AHS debut in Apocalypse.
I, personally, am thrilled to be too scared to watch any of this.
Put this on your radar: Suspiria
Oh, hey, look: It's another horrifying-looking thing I absolutely will never watch. Thursday, Amazon Studios released the first proper trailer for Suspiria, a remake of a 1977 Italian cult horror film of the same name. This time around, it's directed by Luca Guadagnino, who directed the Oscar-winning, much gentler, summer-hug-in-movie-form Call Me by Your Name.
Suspiria stars Dakota Johnson, whom you might recognize from Fifty Shades of Grey, as a ballet dancer at a German dance school who soon realizes there is a bunch of creepy, murder-y, demonic shit afoot. It also stars Tilda Swinton — ahh! — and Chloë Grace Moretz. Thom Yorke of Radiohead is responsible for the film's score.
Apparently, at CinemaCon in April, Amazon played a short scene from the movie that was described by Collider Editor-in-Chief Steven Weintraub as "one of the most fucked up things [they] had ever seen." According to CBS, "the scene featured Johnson as she practices ballet. But with each pirouette, a dancer in another studio is literally ripped apart, descending into a mess of broken bones, urine, spittle and blood." Charming.
Suspiria will be released nationwide Nov. 2. If you're in Los Angeles or New York City, you can see it Oct. 26. The full trailer is over on YouTube .