Today in Trump's America: Trump considered pardoning Paul Manafort before his trial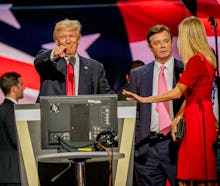 Welcome to Mic's daily read on Donald Trump's America. Want to receive this as a daily email in your inbox? Subscribe here.
Good morning from Emily Singer at Mic.
Here's what's happening in Trump's America:
• Trump and first lady Melania Trump head to Ohio Friday afternoon.
About last night: Trump was considering pardoning Manafort during his trial
Trump's personal lawyer Rudy Giuliani said Thursday night the president indeed was considering pardoning his former campaign chairman Paul Manafort before he even faced trial on multiple tax evasion and bank fraud charges. Trump ultimately decided against such a move until after special counsel Robert Mueller's investigation wrapped up, the Washington Post reported.
Had Trump pardoned Manafort — who was convicted Tuesday on eight felony counts of tax evasion and bank fraud — he could have opened himself up to more legal risk. That's because pardoning someone who may have information relevant to Mueller's investigation could be seen as an attempt to obstruct justice to keep that person from testifying in exchange for a pardon.
"We sat him down and said you're not considering these other pardons with anybody involved in the investigation. He said 'yes, absolutely, I understand,'" Giuliani told the Post. "The real concern is whether Mueller would turn any pardon into an obstruction charge."
Giuliani's admission also means that White House press secretary Sarah Huckabee Sanders was caught in a lie Wednesday when she denied Trump was considering pardoning Manafort.
"Is Mr. Manafort a simple candidate for a presidential pardon?" a reporter asked Sanders on Wednesday.
Sanders replied, "Once again, that's not something that has been up for discussion. I don't have anything for you on that."
Today in Trump's America: Trump continues to publicly feud with Attorney General Jeff Sessions
Trump's feud with Sessions was ratcheted up a notch Thursday, when Sessions fired back against Trump's claim on Fox & Friends that the attorney general "never took control of the Justice Department."
"While I am attorney general, the actions of the Department of Justice will not be improperly influenced by political considerations," Sessions said in a statement. "I demand the highest standards, and where they are not met, I take action."
Trump responded to Sessions in a Friday morning tweet, quoting his tweet to then direct Sessions to be "influenced by political considerations" and investigate his political enemies.
'"Department of Justice will not be improperly influenced by political considerations,'" Trump tweeted, quoting Sessions' Thursday statement. "Jeff, this is GREAT, what everyone wants, so look into all of the corruption on the 'other side' including deleted Emails, Comey lies & leaks, Mueller conflicts, McCabe, Strzok, Page, Ohr, FISA abuse, Christopher Steele & his phony and corrupt Dossier, the Clinton Foundation, illegal surveillance of Trump Campaign, Russian collusion by Dems - and so much more. Open up the papers & documents without redaction? Come on Jeff, you can do it, the country is waiting!"
Trump's continued feud with Sessions calls into question whether the president will fire his attorney general. Sen. Lindsey Graham (R-S.C.) predicted Thursday Trump will let Sessions go after the midterm elections.
"The president is entitled to an attorney general he has faith in," Graham told reporters on Capitol Hill Thursday, according to HuffPost. "And I think there will come a time sooner rather than later where it will be time to have a new face and a fresh voice at the Department of Justice."
That's far different from Graham's threat in 2017 to unleash "holy hell" if Trump fired the attorney general.
Capitol Hill happenings: Indicted Rep. Duncan Hunter throws his wife under the bus
There might be trouble in paradise in California GOP Rep. Duncan Hunter's household.
In an interview on Fox News Thursday night, Hunter appeared to blame his wife for the 60 counts of misusing campaign funds, falsifying campaign finance records and wire fraud that he faces.
"She was also the campaign manager, so whatever she did, that'll be looked at too, I'm sure," Hunter said on Fox News.
"But I didn't do it," Hunter added. "I didn't spend any money illegally."
Both Hunter and his wife are charged in the indictment for allegedly misusing more than $250,000 in campaign funds on personal expenditures, including vacations to Hawaii, Las Vegas, Lake Tahoe and Italy.
The indictment claims the Hunters spent $14,000 on their family trip to Italy, which he tried to justify by scheduling a tour of a naval facility in the country. When the Navy didn't accommodate the date he wanted for the tour, Hunter — who served in the U.S. Marines — reportedly told his chief of staff to "tell the Navy to go fuck themselves."
The indictment also says Hunter tried to pass off a purchase of Hawaiian shorts with campaign funds by claiming the money was spent on purchasing "some [golf] balls for the wounded warriors."
Both Hunter and his wife pleaded not guilty to the charges Thursday.
And the rest…
Immunity: Federal prosecutors granted immunity to David Pecker, the CEO of the parent company of the National Enquirer and a longtime Trump friend, in exchange for information related to Trump. Pecker was involved in a payment to silence a former Playboy model who said she had an affair with Trump. Former Trump lawyer Michael Cohen pleaded guilty Tuesday to campaign finance violations related to the hush money payment to the Playboy model.