In letter, Tim Cook, Jamie Dimon and other business leaders slam Trump's immigration policies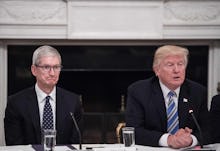 Business leaders from 60 top companies decried the Trump administration's immigration policies Wednesday, sending a letter to the administration condemning immigration changes that are causing anxiety for employees and threatening to disrupt operations.
The letter, which was sent by members of the Business Roundtable coalition to U.S. Department of Homeland Security Secretary Kirstjen M. Nielsen, centers on the H1-B visa that provides temporary work authorizations for skilled foreign employees. The leaders cite policy changes U.S. Citizenship and Immigration Services has issued over the past year, which they claim "significantly increase the likelihood that a long-term employee ... will lose his or her status."
"Inconsistent government action and uncertainty undermines economic growth and American competitiveness and creates anxiety for employees who follow the law," the letter states.
"As the federal government undertakes its legitimate review of immigration rules, it must avoid making changes that disrupt the lives of thousands of law-abiding and skilled employees, and that inflict substantial harm on U.S. competitiveness," it reads.
The letter's signatories include Apple CEO Tim Cook, chairman and CEO of JPMorgan Chase & Co. Jamie Dimon and chief executives from such top companies as American Express Company, AT&T Inc., the Coca-Cola Company, HP Inc., IBM Corporation, PepsiCo Inc., Visa Inc. and Verizon Communications. The New York Times reported in April that more than 40,500 companies in 2017 sponsored workers for H1-B visas, which are issued to more than 85,000 immigrants each year.
Changes to the H1-B visa program cited in the letter include "inconsistent immigration decisions" that allow adjudicators to disagree with past approvals of an employee's visa without explanation; increasing uncertainty about required information for applications; and forcing legal immigrants to undergo deportation proceedings if an application to change or extend their visa is denied. The administration is also expected to revoke work authorization for spouses of H1-B visa holders in the near future.
Denials of H1-B visa applications have increased sharply during the Trump presidency. According to the National Foundation for American Policy, H1-B visa denials increased by 41% from the third to fourth quarter of 2017. The increase coincides with Trump's "Buy American and Hire American" executive order signed in April 2017, which directs government agencies to "suggest reforms" to the H1-B visa program.
According to government data cited by Reuters, the administration has also implemented more hurdles for H1-B applicants. The government issued 85,000 "requests for evidence" challenging H1-B visa petitions between Jan. 1 and Aug. 31, 2017, an increase of 45% over the same period in 2016.
"I would really love it if Congress would pass a provision prohibiting American workers being replaced by H-1B workers," USCIS director L. Francis Cissna said at an event for the Center for Immigration Studies recently, according to the Times of India. "I could draft it myself, probably right now, you know?"