While You Weren't Looking: 5 stories from the Trump administration that aren't about Michael Cohen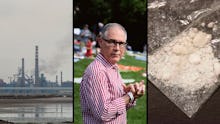 After weeks of legal turmoil, Michael Cohen — President Donald Trump's longtime lawyer and political "fixer" — pleaded guilty to eight felony counts on Tuesday, including two charges of campaign finance violations.
The stunning admission, which essentially names the president as an unindicted co-conspirator in a federal crime, dominated headlines throughout the week, along with the news that Trump's former campaign manager Paul Manafort had been found guilty by a jury on eight felony counts of bank and tax fraud.
But as America's attention was trained on the Oval Office and what the mounting political scandals will mean for the man who occupies it, elsewhere in Washington, the news churned on as usual.
From Scott Pruitt's $43,000 phone call to a new Russian hacking threat, here are five stories you might have missed this week.
EPA announces plan to allow states to set their own emissions standards
The Environmental Protection Agency released new, relaxed guidelines around emissions for coal-burning power plants on Tuesday, its latest attempt at undercutting the Obama administration's goals around reducing pollution.
The agency announced that the rule change, which will allow states to set their own emissions standards, could help to reduce electricity prices by 0.2% to 0.5% by the year 2025.
But according to the EPA's own data, the new guidelines could result in up to 1,400 premature deaths annually by 2030 and up to 15,000 new cases of breathing problems, largely thanks to the minuscule particulate matter released when coal is burned, according to the New York Times.
Gina McCarthy, the Obama-era EPA chief, said during an interview with CNN on Tuesday morning that the Trump emissions plan was "just another step in industry's playbook to dismantle regulations that they find inconvenient but are absolutely essential for our public health and our kids' future."
"It's really all about playing to their base, not doing their job to protect public health," McCarthy said.
Scott Pruitt made one single call from the $43,000 private phone booth he had installed
Speaking of the EPA: its former Trump-appointed administrator, Scott Pruitt, was in the news once again this week after it was reported that he had used the $43,000 private, soundproof phone booth he had installed in his office for the purpose of calling the White House just one time.
That call was made on Jan. 29, and reportedly lasted for five minutes, according to phone logs released amid ongoing litigation filed by environmental advocacy group the Sierra Club.
Although the logs only contained information on outgoing calls, it seems unlikely that Pruitt was fielding many incoming calls from the White House. When he testified before the House Energy and Commerce Committee last April, Pruitt said that the booth was intended for "confidential communications, and it's rare."
But the volume of calls Pruitt made in his booth is largely irrelevant, because the Government Accountability Office has already concluded that he violated federal spending laws by building it in the first place.
In July, Pruitt resigned from his post at the EPA amid more than a half-dozen pending investigations into his lavish spending during his time as the agency's head.
Trump floats a plan to give fentanyl dealers the death penalty
During a Thursday lunch, Trump reportedly told Attorney General Jeff Sessions that he believes that dealers of the powerful and deadly opiate fentanyl deserve the death penalty, according to three administration officials who spoke with Bloomberg.
This isn't the first time the president has pushed for the harshest possible sentencing when it comes to drug dealers. In March, Politico reported that Trump was considering formally adopting the policy in the White House's official plan on combating the opioid crisis in America.
According to that report, one of the president's first and loudest cheerleaders on the policy was Rep. Chris Collins — the New York congressman who was recently indicted on insider trading charges.
"I'm all in on the capital punishment side for those offenses that would warrant that," Collins told Politico in March. "Including drug cases. Yep."
A new Russian hacking operation reportedly targeted Republican groups
After attempting to sway voters during the 2016 presidential election, Russian hackers have reportedly found a new target: conservative think tanks in the U.S. who recommend sanctions against Moscow.
The information came bundled in a report released by Microsoft Corporation this week, which said that it had recently seized websites that appeared to be linked to the same Russian military intelligence unit accused of tampering with the election.
According to the New York Times, the report details how the hackers set up hoax sites in an attempt to skim passwords and other personal details from people who thought they were providing the information to groups like the Hudson Institute and the International Republican Institute.
Both organizations are notable for their support of positions that undermine those of Russian President Vladimir Putin: according to the Times, the Hudson Institute has made Russian kleptocracy a primary focus of its research, and the International Republican Institute does work on promoting democracy throughout the world.
"We are now seeing another uptick in attacks," Microsoft's president, Brad Smith, told the Times during a Monday interview. "What is particular in this instance is the broadening of the type of websites they are going after. These are organizations that are informally tied to Republicans, so we see them broadening beyond the sites they have targeted in the past."
Scott Lloyd — the HHS official who led a crusade against a 17-year-old immigrant's right to an abortion — once paid for his own partner's
Despite being so staunchly anti-abortion that he once discussed reversing the in-process procedure of one 17-year-old immigrant girl in his care, Scott Lloyd — the head of the Department of Health and Human Services' Office of Refugee Resettlement — claims he once helped his own partner procure an abortion.
In a six-page college essay unearthed by Mother Jones this week, Lloyd, who is tasked with overseeing the well-being of the nearly 12,000 migrants under the age of 18 in ORR's care, admits that as a young man, he once agreed to split the cost of an abortion with his then-pregnant girlfriend.
"On the way there, I gave her the money, mostly in ones, for two reasons: 1) if I didn't, I would be the enemy and she would stop listening to me and 2) because if she went through with it, I didn't want to leave thinking it wasn't my fault. Both were stupid reasons. In the parking lot we argued one last time," Lloyd wrote.
The essay is notable given the lengths Lloyd has gone to in the past to ensure that the underaged migrants in his care do not have the capability of making the same decision.
In the documents, Lloyd also compares abortion to the holocaust ("The Jews who died in the Holocaust had a chance to laugh, play, sing, dance, learn, and love each other," he writes. "The victims of abortion do not.") and places the consequences of unprotected sex solely on women:
"By making the choice to have sex, a woman is making a conscious decision to engage in an act that has the natural result of creating a pregnancy," he wrote. "A pregnancy implicates the rights of two other people—the baby, and the father, whether our government wants to recognize that or not."