Who's Sorry This Week? 'To All the Boys' star Israel Broussard and other public apologies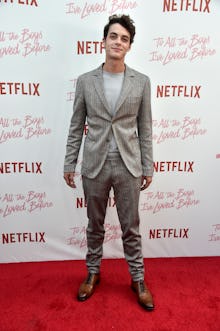 Another week, another deluge of apologies.
In Who's Sorry This Week? Mic tracks down the most prominent mea culpas from celebrities, companies and other public entities trying to make amends for their various screwups.
This week actually did have a shortage of apologies, but let's get down to business anyhow. Oh, but we should mention, though, that your usual apologies correspondent, Tim Mulkerin, is sorry he's not around for this week's column.
To All the Boys I've Loved Before star Israel Broussard is sorry for all of those old problematic tweets
Over the weekend, while much of the internet was falling for Netflix's new rom-com To All the Boys I've Loved Before, some Twitter users reportedly discovered a series of problematic tweets from one of the film's stars, according to Billboard. Actor Israel Broussard — who plays the character Josh in the movie — has since drawn very public criticism for his past statements on the social media platform, some of which were allegedly critical of the Black Lives Matter movement and dismissive of LGBTQ communities.
"Hashtags don't fucking matter," reads one since-deleted tweet that was allegedly sent out in 2016. "But all lives do. Black lives matter. White lives matter. Police lives matter." Back in 2009, Broussard allegedly tweeted, "I'm not going out for a gay role, thank you though. Haha." Billboard pointed out that, despite that alleged message, Broussard has played several queer characters, including one in 2013's The Bling Ring.
On Tuesday, the 24-year-old Broussard issued an apology over Twitter, writing, "I am deeply sorry for my inappropriate and insensitive words and likes on social media. I take full responsibility for my actions and I sincerely apologize. This has been a pivotal life lesson for me. I am dedicated to becoming a more informed and educated version of myself. Much love."
MLB player Derek Holland is sorry he spoke in a stereotypical Asian accent during an interview
On Wednesday, Giants pitcher Derek Holland appeared on the MLB Network's Intentional Talk and did an interview segment alongside Giants massage therapist Haro Ogawa. While on the show, Holland did a "bit" that involved him adopting a stereotypical Asian accent and bowing. As USA Today noted, the segment did not sit well with Bleacher Report's Joon Lee, who was understandably upset and vocal about it on Twitter.
"That's the entire joke," Lee wrote. "That Holland uses an Asian accent. Come on."
After Holland's behavior started to pick up more media attention, the Giants clubhouse responded with a statement. "The Giants organization does not condone that type of behavior in any way," team spokesperson Matt Chisholm told Deadspin. "We spoke to Derek regarding his interview yesterday and he completely understands the severity of the situation and he apologizes if it offended anyone. That was not his intention at all, but he's taking full responsibility for it. It was not his intention at all to embarrass Haro."
Holland issued an apology on Thursday, just before the Giants faced off against the New York Mets.
"I want to make sure it's clear that was all on me," Holland said. "I want to be held accountable for everything that I've done and caused with all of this. It's embarrassing what I did. ... I apologize for what I have done. Whatever I have to do to take care of the situation, I will do it."
A New York woman is sorry for stealing a local bakery's topiary hound
On Tuesday, Gothamist reported on the theft of a dog. Not a real dog, mind you — it was a topiary dog, but still. Anyway, on Saturday, the decorative dog disappeared from outside the Bakery on Bergen in the Prospect Heights section of Brooklyn. Kim Vann, the bakery's owner, didn't see the theft happen, but after she was made aware, she consulted security camera footage and spotted a woman in a long, blue dress kick over the topiary dog (who's apparently named Peabody) and then walk off with it.
"Today this girl stole Peabody," Vann wrote on Instagram, in a caption accompanying the footage of the theft. "As a native Brooklynite I'm trying to build my business in a community where I grew up and someone had the nerve to violate my shop like this." After Vann's friend, radio personality and co-host of The Breakfast Club Angela Yee, also posted about what happened, the culprit messaged Vann and Yee directly to apologize.
"I saw the video of me stupidly stealing your ivy dog," the DM to Vann reads. "Needless to say I feel horrible about it and will get it back to you/make it up to you. I cannot apologize enough and hope I can make it up to you." The thief struck a different tone in an Instagram DM to Gothamist, writing that the bakery has gotten "some much needed publicity" from the story.