The 'Living Single' cast addresses reboot rumors: We won't do it "if it doesn't advance what we did"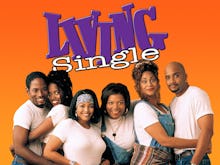 The hit '90s sitcom Living Single celebrated its 25th anniversary Wednesday and black-owned network TV One — which currently runs the series in syndication — will air the show nonstop from Friday to Sunday.
According to Shadow and Act, TV One's marathon will do more than just play the episodes. The network will test fans' knowledge with trivia and invite the cast — Kim Coles (Synclaire), TC Carson (Kyle), John Henton (Overton) and Kim Fields (Regine) — to talk about the show, adding fuel to the fire about a possible reboot.
"We've all been accomplished in so many things and yet you are thrilled at the crazy, ridiculously health appetite that the audience seems to have for this," Fields told TV One. "It's almost like the Godfather — they keep pulling me back in."
In terms of a reboot, Carson said he isn't sold on it, at least not now. "The thought of being able to work with my family again is wonderful," he said. "The other side of me understands that what we did was important. If it's not going to be something that is going to advance what we did, then it's kind of just to make money."
Living Single first aired in 1993 on Fox, following the lives of friends in Brooklyn, New York. It eventually became part of the hugely popular Thursday night lineup on the network, with other black-led shows Martin and New York Undercover. Many credit the show, which aired more than 100 episodes over five years, with being the original Friends, including one of the show's stars, Queen Latifah.
"When Living Single came out, shortly thereafter, Warren Littlefield, who was president of NBC, was asked if he could have any show on television, any of the new shows, which would it be," she said. "He said Living Single."
Most recently, in January, Hulu added Living Single to its lineup of shows, introducing a new generation to the popular sitcom. The streaming service also touted the show's 25th anniversary on its Twitter.
With many other shows like Full House and Gilmore Girls being rebooted, many have questioned if Living Single could get the same treatment. In July, Coles stoked fans' interest in an interview with ET, saying, "I have been neither contacted nor contracted. However, something is happening next month that I cannot talk about, and that's all I'm gonna say."
Watch the interview below. TV One's Living Single marathon begins at 6 p.m. Eastern on Friday.