Trump Organization CFO Allen Weisselberg granted immunity for helping prosecutors in Cohen probe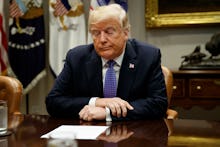 On Friday, Trump Organization financial chief Allen Weisselberg was reportedly granted immunity for providing information to prosecutors investigating Michael Cohen, President Donald Trump's former personal attorney and fixer.
According to the Wall Street Journal, Weisselberg provided authorities with information related to their investigation into the illegal hush agreements Cohen made with two women in 2016 who said they had affairs with Trump.
It was announced Tuesday afternoon that Cohen pleaded guilty to eight charges, including two campaign finance violations related to the payments. Cohen implicated the president in his crimes, telling a New York court he broke campaign finance laws "in coordination with and at the direction of a federal candidate for office" — a clear reference to Trump.
Trump has maintained he did nothing wrong and the felonies Cohen pleaded guilty to are not really crimes.
It wasn't immediately clear Friday morning exactly what information Weisselberg provided to authorities, but his cooperation may be a significant blow for Trump. Weisselberg has spent decades in the Trump Organization as an executive vice president and chief financial officer.
Weisselberg also manages Trump's financial and business interests as part of a so-called "blind trust" with the president's two sons, Eric Trump and Donald Trump Jr.
The Trump Organization CFO is only the most recent of the president's close associates known to cooperate with investigators.
On Thursday, it was reported David Pecker, publisher of the National Enquirer and a longtime friend of Trump, had also been granted immunity in exchange for information about Cohen's efforts to silence porn star Stormy Daniels and Playboy model Karen McDougal ahead of the 2016 election.
Some of the information Pecker provided prosecutors appears to have helped form the basis for the campaign finance charges Cohen admitted to on Tuesday.
Trump has raged as Cohen and others in his orbit seem to break from him, telling Fox News Thursday "flipping ... almost ought to be illegal."