The world's first beer hotel is here — and every room has a beer fridge in the shower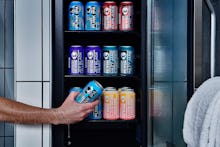 Craft beer lovers, listen up. The world's very first beer hotel — where you can live out your adult fantasies and spend the night (drinking) at a brewery — is now open.
The hotel is run by Scottish beer brand BrewDog, and overlooks its sour beer facility in Columbus, Ohio. Each of the DogHouse's 32 rooms has its own bar with taps and a built-in shower beer fridge, so that you can immediately fulfill your need for a pint, no matter where in the room you are. "If you've never had a cool beer in a hot shower, it's life-changing," BrewDog USA's CEO, Tanisha Robinson, said in a phone interview.
The beer hotel was the result of a passionate crowdfunded effort, Robinson said. In March 2017, the brewery launched an IndieGoGo campaign asking for $75,000 to expedite their $6 million construction project, incentivizing backers with perks at the hotel like craft beer breakfasts, hop-infused spa treatments and a dip in their IPA-filled jacuzzi.
In under a week, the brewery raised $160,000 from over 1,000 backers, and after a stretch goal of $200K, raised just over $320,000. "We have a long history of crowdfunding," Robinson said. From a staff of two employees (and one dog) in 2007, BrewDog has since expanded internationally, with 50 craft bars and 70,000 shareholders who've equity-crowdfunded its expansion.
Robinson said she expects the DogHouse will cater to craft beer fans, though she hopes the experience will attract beer novices as well. "There's a really exciting range of craft beer even beyond, what I'd say, the range of wine," she said.
For those who may not be beer fans just yet, there are a number of other amenities including a dog park and an interactive beer museum, though you may have to get used to the lingering smell of beer and hops. "I suppose it depends on how much you spill, though," Robinson said.
In February, BrewDog also announced plans to open a second hotel in Aberdeenshire, Scotland, scheduled to open in 2019. Rooms at the DogHouse in Columbus are available to book now.