Trump threatens to "get involved" if FBI doesn't investigate Hillary Clinton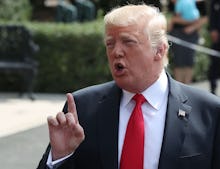 President Donald Trump on Saturday renewed his yearslong attack on Hillary Clinton, threatening in a series of tweets to "get involved" if federal law enforcement did not stop investigating him while "real corruption goes untouched."
"I feel sure that we will soon be getting to the bottom of all of this corruption," Trump wrote Saturday morning. "At some point I may have to get involved!"
Trump's tweetstorm came as he faces mounting legal and political pressure over the conviction of former campaign chairman Paul Manafort and the plea deal of former fixer Michael Cohen.
The verdict and the guilty plea occurred within minutes of one another on Tuesday afternoon, and Cohen directly implicated the president in a pair of campaign finance violations related to his arrangement in 2016 to silence two women who say they had affairs with Trump years earlier.
Since then, Lanny Davis — Cohen's lawyer — has suggested his client had information about possible collusion between the Trump campaign and the Kremlin that he'd be willing to share with special counsel Robert Mueller. Cohen has also been subpoenaed by investigators to provide information about the Trump Foundation, which is the subject of a New York attorney general's office inquiry.
At least three others in Trump's orbit, including National Enquirer publisher David Pecker and Trump Organization CFO Allen Weisselberrg, have been revealed in recent days to have received immunity in exchange for their cooperating with authorities in the Cohen probe.
With his back against the wall after one of the most damaging weeks of his presidency, Trump went on the attack Saturday.
First, he bashed Cohen, Davis and the "Fake News Media" over the questions surrounding the infamous Trump Tower meeting his son, Donald Trump Jr., took with a Russian attorney he believed to have dirt on Clinton.
It was reported in July that Cohen has said that Trump knew in advance about the Trump Tower meeting and coordinated with his son. But Axios reported Thursday that Cohen, in closed-door hearings with Congress last year, said he was unsure if Trump knew about the meeting with Natalia Veselnitskaya. Davis confirmed that "nothing has changed" regarding Cohen's knowledge of the Trump Tower matter and emphasized that they were "not the source" for last month's stories.
"We could not confirm, and we could not correct," Davis told the outlet. "We had to be silent because of the sensitivity needed in the middle of a criminal investigation."
Trump latched onto the report Saturday, tweeting that he did "NOT know about the meeting" and casted it as another "phony story" by the media.
The Trump Tower meeting, and the misleading statement he crafted for his son to explain it away, have been key episodes in Mueller's investigation into possible conspiracy between the campaign and the Kremlin, along with possible obstruction of justice.
Trump also renewed his attack on Attorney General Jeff Sessions on Saturday, claiming he "doesn't understand what is happening underneath his command position."
"Highly conflicted Bob Mueller and his gang of 17 Angry Dems are having a field day as real corruption goes untouched," Trump tweeted. "No Collusion!"
Trump has been publicly lambasting Sessions for some time now over his decision early last year to recuse himself from matters related to Russia, but this week the attorney general fired back in a statement saying that the "Department of Justice will not be improperly influenced by political considerations."
The escalating feud has led to some speculation that Trump may attempt to oust Sessions, something Republicans like Sen. Lindsey Graham (R-S.C.) would apparently be fine with.
It's unclear what Trump meant Saturday when he threatened to "get involved," but it's not the first time he's issued such a warning. In May, he suggested he'd "use the powers granted to the Presidency and get involved" in an effort by congressional Republicans to get documents related to the Russia probe, and earlier this month he said he "may have to get involved" in an attempt by the conservative group Judicial Watch to obtain former deputy FBI director Andrew McCabe's text messages.