McCain's right-wing critics still won't let up — even as he ends his battle with brain cancer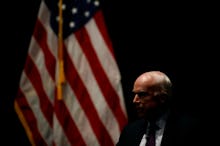 Kelli Ward, the conservative seeking the Republican Senate nomination in Arizona's upcoming primary election, is continuing to attack Sen. John McCain (R-Ariz.) — even as the maverick seems to near the end of his life.
"We have a choice," Ward said at campaign events Friday, according to Politico. "Are we going to elect another senator cut from the same cloth as Jeff Flake and John McCain?"
"No!" supporters responded.
The attacks from Ward, a harsh critic of McCain who is seeking to replace Flake, came the same day the ailing senator's family announced that he has ended his brain cancer treatment, suggesting he may be in his final days.
"John has surpassed expectations for his survival," the family said in a statement. "But the progress of disease and the inexorable advance of age render their verdict. With his usual strength of will, he has now chosen to discontinue medical treatment."
The announcement triggered an outpouring of support across the political spectrum, but President Donald Trump, Ward and other right wing McCain adversaries have either remained silent or continued to attack the Arizona Republican in spite of the news.
"I'm sorry that he's sick. It's a horrible thing," Ward told supporters Friday. "But that doesn't mean that his policies suddenly became good. They didn't."
Tomi Lahren, a far-right pundit and prominent Trump supporter, said during an event for Ward on Friday that McCain is a "RINO" — a Republican In Name Only.
Trump, whom McCain has criticized on numerous occasions, is reportedly resisting releasing any statements of support for the senator before he dies — and apparently does not regret mocking him, as he's repeatedly done.
Trump said in 2015 that McCain, who was a prisoner of war in Vietnam, was only a "war hero because he was captured."
"I like people who weren't captured," Trump said at one of his early campaign events in Iowa.
It was a stunningly ugly remark, but Trump has never retracted it. Instead, he's continued to bash McCain — even as an aggressive brain cancer has kept the senator away from Washington, D.C.
"Remember, one person walked into a room when he was supposed to go this way, and he said he was going this way, and he walked in and went this way, and everyone said, 'What happened? What was that all about?'" Trump said in February, mimicking McCain's now-famous thumbs-down that killed the GOP's "skinny repeal" health care bill in 2017. "Who was that? I don't know. I don't know. I don't want to be controversial so I won't use his name."
One of Trump's aides, Kelly Sadler, also came under fire in May for saying during a meeting that McCain's objection to Gina Haspel, then the nominee for CIA director, didn't matter because "he's dying anyway."
The White House refused to apologize for Sadler's remark, though she was later removed from her position for an unrelated reason.
McCain, for his part, has been perhaps the most prominent Republican critic of the president on Capitol Hill. Most recently, he slammed Trump's July summit with Russian President Vladimir Putin as "one of the most disgraceful performances by an American president in memory."
McCain announced in July 2017 that he has been diagnosed with an aggressive form of brain cancer.
The 81-year-old has appeared to be in worsening health in recent months, and has reportedly told the White House that he does not want Trump at his funeral.