This week in Trump-Russia news: A one-two legal punch puts Trump on his heels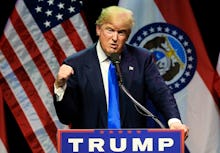 The investigation into Michael Cohen had originally been an offshoot of Robert Mueller's Russia probe.
But now that Cohen has surrendered himself to prosecutors, that inquiry appears to be perhaps an even greater threat to Donald Trump's presidency than the investigation it grew out of.
Cohen on Tuesday pleaded guilty to eight charges: five counts of tax evasion, one count of making false statements and two counts of violating campaign finance laws. Most significantly, he directly implicated Trump in his guilty plea, telling a New York court that he had been working "at the direction" of Trump when he arranged in 2016 to silence two women who claim to have had affairs with the then-GOP candidate.
It was a bombshell claim, and it came at almost exactly the same time former Trump campaign chairman Paul Manafort was found guilty of eight of the 18 bank and financial fraud charges he was facing in Virginia.
The one-two punch of developments put Trump on the ropes — and could land him in major political and legal peril.
Cohen implicates Trump in campaign finance crimes
Cohen said in court Tuesday that he committed two campaign finance violations "in coordination with and at the direction of a federal candidate for office" — a clear reference to Trump — and did so with the "principal purpose of influencing election."
That, to some observers, made the sitting president of the United States an unindicted co-conspirator in a pair of felonies.
"It is a dramatic day for Trump's personal criminal liability," former federal prosecutor Patrick Cotter said Tuesday. "The president tonight stands, for all practical purposes, indicted for a federal crime."
The violations stem from hush agreements Cohen said were arranged to keep porn star Stormy Daniels and Playboy model Karen McDougal quiet during the campaign about their alleged affairs with Trump years earlier.
Cohen's guilty plea capped a monthslong investigation that first entered the public consciousness in April, when his home, hotel room and office were raided by authorities working under Mueller's referral.
Trump at the time called that raid an "attack on our country" and initially suggested his attorney would remain loyal to him.
But his relationship with Cohen has frayed in recent weeks, and Trump began waging a war on his ex-lawyer's credibility as it became more and more apparent that he would become a thorn in his side.
"If anyone is looking for a good lawyer, I would strongly suggest that you don't retain the services of Michael Cohen!" Trump tweeted Wednesday, the day after Cohen's guilty plea.
But Cohen will continue to pose a major problem for the president on multiple fronts. As Trump's fixer, Cohen for years handled some of his most sensitive personal and professional matters. Now, much of that information could become public.
Lanny Davis, the attorney representing Cohen, said in media appearances following the guilty plea that his client has "knowledge on certain subjects that should be of interest" to Mueller, including "knowledge about the computer crime of hacking and whether or not Mr. Trump knew ahead of time about that crime and even cheered it on." Davis also said Cohen had information relating to a New York investigation into the Trump Foundation.
The fixer was subpoenaed as part of the probe into Trump's charity on Wednesday.
But the allegations that Trump directed Cohen to arrange the hush agreements with Daniels and McDougal ahead of the 2016 election are significant on their own, and could be damaging to his presidency.
"It's extraordinary news," Heather Cox Richardson, a historian at Boston College, said in a phone interview Wednesday.
And then there's Manafort
Within minutes of Cohen's guilty plea Tuesday, a jury found Manafort guilty on eight of the charges the former Trump campaign chairman was facing in Virginia.
The 69-year-old could be facing about 10 years in prison.
Manafort, who led the Trump campaign during the summer of 2016, was facing 18 bank and financial fraud charges that stemmed from the Mueller probe. He is expected to face additional charges more directly related to the main thrust of that investigation at a separate trial in September.
The verdict came after 12 days of arguments and four days of deliberation, during which a single juror reportedly prevented the group of six men and six women from convicting Manafort on all 18 counts.
Trump latched onto the fact that 10 of the counts "could not even be decided" as proof that the probe is a "witch hunt," but the verdict was unquestionably a win for Mueller, who has already secured guilty pleas from other top Trump officials, including former national security adviser Michael Flynn.
Manafort's conviction may increase pressure on him to cooperate with investigators, though he has not given an indication that he will.
Trump lashes out amid firestorm
Manafort declining to cooperate with investigators has earned him plaudits from Trump, who says he feels "very badly" for his former campaign manager and feels he's been treated unfairly.
He's contrasted Manafort with Cohen, who he says is "[making] up stories in order to get a 'deal.'"
"Unlike Michael Cohen, he refused to 'break,'" Trump tweeted of Manafort. "Such respect for a brave man!"
He's implied that he may issue a pardon to his former campaign manager — something Rudy Giuliani, Trump's lawyer, has indicated will be a possibility down the road.
Meanwhile, he's continued a campaign to undermine Cohen's credibility, attack the Mueller probe as a "RIGGED WITCH HUNT" and attempt to pressure Attorney General Jeff Sessions to shut it down.
Trump appears to be in panic mode
But Trump's scattershot attacks on investigators have appeared even more desperate than normal this week.
Not only did two more of his close former allies become felons in one afternoon, but more people in his orbit were revealed to have been cooperating with prosecutors.
David Pecker, publisher of the National Enquirer, received immunity from federal authorities in exchange for information that apparently helped form the basis for the charging documents in the Cohen case, it was reported this week. Dylan Howard, chief content officer at the Enquirer's parent company, American Media Inc., received immunity as well.
It was also revealed that Allen Weisselberg, the CFO of the Trump Organization, was granted immunity for helping prosecutors in the Cohen case.
Pecker is one of the president's oldest friends, and is said to have a safe in which he hid damaging stories about Trump. Weisselberg has worked for the Trump Organization for decades and is part of the so-called "blind trust" with Eric Trump and Donald Trump Jr. that has managed the Trump's business interests since he assumed the presidency.
The information both men could provide on Trump could potentially be devastating. Reports about their cooperation with investigators came the week after it was revealed that Don McGahn, the White House counsel, has met with Mueller's team at least three times to provide information about episodes that have been at the center of his obstruction of justice inquiry.
It's not clear what kind of trouble Trump could be in.
It's an open question if a sitting president can be indicted, so it's hard to say for sure if Trump could be in potential legal jeopardy while he's in the White House.
Politically, Trump has weathered a number of storms before — in large part because his party, which controls both the House and the Senate, has stuck with him so far.
But it's hard to see this political storm passing the way others have.
"Both the Cohen and Manafort convictions make it all but inevitable that more witnesses and evidence against Trump will emerge," Cotter said Tuesday.
And with Democrats appearing poised to regain control of Capitol Hill, the possibility of impeachment may increase — something both Trump and his allies seem to recognize.
"Today clarifies that November is a referendum on impeachment," Bannon told Bloomberg's Jennifer Jacobs Tuesday evening, after the developments in the Cohen and Manafort cases. "An up or down vote."