With McCain's death, the GOP has lost its last true "maverick"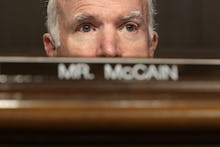 With the death of Sen. John McCain, the Republican Party has lost one of its only remaining independent leaders — a man who stood up to his president and party leaders when most remained silent, and who stuck to his core values even when he knew that would draw the ire of his party's vocal base.
In one of his last political acts, he cast the deciding vote to defeat Republicans' immensely unpopular Affordable Care Act repeal bill, just days after receiving the brain cancer diagnosis that would ultimately claim his life.
And he was a vocal critic to President Donald Trump when most in his party choose to privately grouse about Trump's behavior but refuse to express it publicly for fear of backlash.
In the wake of Trump's disastrous meeting with Russian President Vladimir Putin in July, McCain torched Trump.
"Today's press conference in Helsinki was one of the most disgraceful performances by an American president in memory," McCain said in a statement. "The damage inflicted by President Trump's naiveté, egotism, false equivalence, and sympathy for autocrats is difficult to calculate. But it is clear that the summit in Helsinki was a tragic mistake."
After Trump refused to condemn the white supremacists who gathered in Charlottesville, Virginia, in August 2017, McCain wrote an op-ed in the Washington Post criticizing his own party for not standing up to the president.
"Congress must govern with a president who has no experience of public office, is often poorly informed and can be impulsive in his speech and conduct," McCain wrote. "We must respect his authority and constitutional responsibilities. We must, where we can, cooperate with him. But we are not his subordinates. We don't answer to him."
In many ways, McCain always has been the antithesis to Trump. He was driven by service to his country rather than self-aggrandizement, and tried to appeal to the "better angels" of the American people, rather than the most vocal base voters — who in recent years have pushed the GOP toward a populist, anti-immigrant agenda.
"To fear the world we have organized and led for three-quarters of a century, to abandon the ideals we have advanced around the globe, to refuse the obligations of international leadership and our duty to remain 'the last best hope of Earth' for the sake of some half-baked, spurious nationalism cooked up by people who would rather find scapegoats than solve problems, is as unpatriotic as an attachment to any other tired dogma of the past that Americans consigned to the ash heap of history," McCain said in a speech in October 2017, one of his last before he retreated to Arizona to live out his final days.
McCain was always able to accept his fate and say a kind word about an opponent.
At the Al Smith dinner in 2008 — an annual charity event held in the final days of a presidential campaign in which both parties' nominees roast each other — McCain took time to praise then-Sen. Barack Obama.
"I don't want it getting out of this room but my opponent is an impressive fellow in many ways," McCain said at the dinner. "Political opponents can have a little trouble seeing the best in each other. But I have had a few glimpses of this man at his best. And I admire his great skill, energy and determination."
By that point, McCain knew he was going to lose his second bid for the presidency. Obama held an average of a 6.8-point lead over McCain, which was still less than the 7.6% Obama ended up winning by.
Yet unlike Trump — who spent the final days of the 2016 presidential campaign trying to build an excuse for why he would not accept the will of the people should he lose, as many expected would happen — McCain accepted his fate and tried to prepare the country to unify.
"In the military they work pretty hard to impress the chain of command on your way of thinking," McCain said at the 2008 Al Smith dinner. "And one way or another, on the 4th of November, word will come down from the top of the chain and Sen. Obama and I will both receive our orders."
Of course, McCain was imperfect, too.
Like many politicians, his worst decisions were made in the quest for political gain.
In his first unsuccessful run for president in 2000, McCain refused to call for the removal of the Confederate flag from South Carolina in an effort to win the South Carolina primary.
And you can't talk about his willingness to stand up to Trump and the ugly voices within the Republican Party without acknowledging that his selection of Sarah Palin as his running-mate in the 2008 presidential campaign helped usher in this new era of political ugliness he so reviled.
But unlike many politicians, McCain was willing to admit his mistakes.
"I feared that if I answered honestly, I could not win the South Carolina primary," McCain said in a speech after he lost the South Carolina primary in 2000. "So I chose to compromise my principles. I broke my promise to always tell the truth."
In his final book, The Restless Wave, McCain admits that he regretted selecting Palin over former Sen. Joe Lieberman, calling it "another mistake I made."
At the time, his political advisers said choosing Lieberman, a Democrat turned independent who supported abortion rights, would hurt his presidential bid.
"It was sound advice that I could reason for myself," McCain wrote in his book. "But my gut told me to ignore it and I wish I had."