Coming up this week in politics: Arizona votes days after McCain's passing as Trump heads to Indiana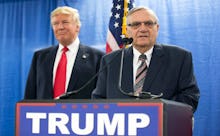 Following a chaotic week filled with legal woes for California Rep. Duncan Hunter, former Trump campaign manager Paul Manafort, Trump lawyer Michael Cohen — and potentially the president himself — the political world will manage the fallout in what's set to be a quieter week.
The Senate will be in session this week while mourning the death of Sen. John McCain, whose Arizona constituents will be among those in three states participating in primary elections.
President Donald Trump, meanwhile, will deal with the ongoing investigation into payments made during his presidential campaign as he heads to Indiana for a campaign rally and meets with the president of Kenya.
Here's what to expect from the political week ahead.
Trump's agenda: Trump will meet with President Uhuru Kenyatta of Kenya Monday, during which the two will discuss such topics as trade and regional security.
The meeting marks Trump's second White House meeting with an African leader during his presidency, following a meeting with Nigerian President Muhammadu Buhari in April. Trump has had a contentious relationship with the continent of Africa more broadly during his presidency; the president came under fire for describing African nations as "shithole countries" in January and was recently denounced by South African officials after repeating a white nationalist conspiracy theory about farming in South Africa.
The president and first lady Melania Trump will host a reception Tuesday for the White House Historical Association, which is currently leading a Presidential Sites Summit that includes a gathering of presidential descendants. The first lady will also plant a sapling from a tree planted during the Dwight D. Eisenhower administration at the White House Monday as part of the summit.
Trump will also travel to Evansville, Indiana, Thursday for a rally in support of Republican Senate candidate Mike Braun, who will challenge Democratic incumbent Sen. Joe Donnelly in November. The Evansville Courier & Press reported the event is expected to draw thousands of attendees — and thousands of anti-Trump protesters.
Sources cited by WSOC have also reported that Trump will hold a private fundraiser Friday for Reps. Mark Harris and Ted Budd in Charlotte, North Carolina.
Congress: The Senate will be in session this week as the House remains on its August recess.
Senate Majority Leader Mitch McConnell has vowed to keep senators in session this August until the body can approve the nominations of four executive branch positions and at least 12 Trump-appointed judges. Those hearings will continue Monday with the nomination of Lynn A. Johnson as the next Assistant Secretary for Family Support, Department of Health and Human Services.
Committee hearings will also take place this week in the Senate, including upcoming sessions on protecting religious liberty around the world and oversight of the Food and Drug Administration.
As the Senate mourns the passing of colleague Sen. John McCain, they're also expected to honor the beloved politician. Senate Minority Leader Chuck Schumer said he will introduce a resolution to rename the Senate office building after McCain, which Republican Sen. Jeff Flake has said he will co-sponsor.
Primary elections: Voters in Arizona, Florida and Oklahoma will head to the polls Tuesday ahead of the November midterm elections.
Days after McCain's passing, the Senator's Arizona constituents will elect candidates for the replacement of McCain's Senate colleague Sen. Jeff Flake. In the Republican race, frontrunner and former Air Force pilot Rep. Martha McSally will face off against Kelli Ward, whom Trump has praised on Twitter, and former sheriff Joe Arpaio, whom Trump pardoned in July 2017.
McCain's successor will instead be appointed by Gov. Doug Ducey, ahead of a special election in 2020 to determine who will serve the remainder of McCain's term. Ducey himself is facing a primary challenge Tuesday, after drawing criticism from voters over a legislative session that included the state's teachers striking over inadequate funding.
Florida's primary election will see current Gov. Rick Scott vie for a U.S. Senate nomination, as he fights to take on current Democratic Sen. Bill Nelson. Trump has endorsed U.S. Rep. Ron DeSantis as Scott's successor in the state's gubernatorial race, even going so far as to rally in Tampa in support of the primary candidate. DeSantis will face off Tuesday against Agricultural Commissioner Adam Putnam, while the Democratic primary includes a crowded and diverse field of candidates that includes former U.S. Rep. Gwen Graham and Tallahassee Mayor Andrew Gillum.