Hype Daily: Tilda Swinton might play an old man in 'Suspiria' — and other entertainment news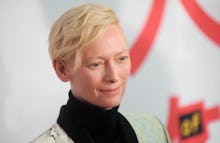 Welcome to Hype Daily, Mic's morning entertainment news roundup. Here's everything you need to catch up on in the entertainment world and what to look forward to today. If you haven't already, subscribe here to receive Hype Daily as an email in your inbox every morning during the week.
Good morning, folks. Are you feeling refreshed from the weekend? I am not. Nevertheless, let's dive right in.
Some people think Tilda Swinton has a secret role in Suspiria
Last week, I told you to check out the first full-length trailer for Suspiria, Luca Guadagnino's (who you'll know as the director of Call Me by Your Name) remake of an Italian horror film from the '70s. Well, since the trailer came out, a fascinating conspiracy theory has emerged: Tilda Swinton is secretly playing an old man.
Swinton is already credited as Madame Blanc, the film's creepy ballet teacher, but some people think she might also play Dr. Jozef Klemperer, a character whose role is currently attributed to Lutz Ebersdorf on IMDb — a person with no prior acting credits and a suspiciously detailed biography. The biography claims Ebersdorf's family fled Nazi Germany when he was a child, that he cofounded an "experimental theatre group" called Piefke Versus and eventually made his way to the world of psychology, where he specializes "in mother-daughter relationships."
Ordinarily, the casting of an actual psychologist wouldn't be a red flag on its own, but a Telegraph article from 2017 alleged Swinton was disguising herself as Ebersdorf without most of her fellow cast even knowing. In response to the allegations, Guadagnino told Yahoo, "That's ... complete fake news. They made a picture of my actor Lutz Ebersdorf and they claimed it was Tilda in make-up. I don't know why and I don't know who."
Hmm.
Regardless, the idea Swinton would play an old man certainly isn't outside the realm of possibility — in fact, she's known for her highly transformative roles with ambitious prosthetics work. There was also that time she fell asleep in a glass box at the Museum of Modern Art. That's not directly related here, but it was weird is all I'm saying.
I suspect this isn't the last we'll hear of this bizarre mystery.
A fan yelled "Wait, start again, I wasn't recording," at Ariana Grande during a concert — and she did
Over the weekend, Ariana Grande, hot off the release of her new album Sweetener, performed an intimate concert at the Theatre at Ace Hotel in Los Angeles. According to Variety, the theater holds just 1,600 people, making for a much more up-close-and-personal, conversational-style show than most people are used to seeing from the ponytailed pop star.
One moment in particular went viral on Twitter: In a video tweeted by @majestcbitch, you can see Grande start to sing "Raindrops (An Angel Cried)," the album's moody, bare-bones opening track. Just a few seconds into the song, a fan screamed, "Wait, start again, I wasn't recording" — and Ariana brought the song to a screeching halt.
"Wait, did you say, 'Start again, I wasn't recording'?" Ariana said, shielding her eyes from the spotlight as she tried to see who yelled out. "Someone said, 'Start again, I wasn't recording,' and I listened. I listened."
"Are you ready now?" she added. "I'm sorry. That was funny."
Ordinarily, I wouldn't condone the obsessive recording of a concert on one's phone — seriously, just enjoy the show, people — but in this case, some very bad manners led to something pretty cute.
Put this on your radar: True Detective season 3
Sunday night, HBO released the very first trailer for the third season of True Detective, its gritty, prestige-y crime anthology series. This time around, the main character is played by Mahershala Ali, who you might recognize from his Oscar-winning role in Moonlight or maybe as the villain Cottonmouth from the first season of Netflix's Luke Cage.
Expectations for season three are high, to say the least, as the network hopes the new batch of episodes can restore the series to glory. The show's first season, which starred Matthew McConaughey and Woody Harrelson, was pretty universally beloved. The second season, starring Rachel McAdams and Colin Farrell was ... well, let's just say it wasn't as popular as the first and leave it at that.
We'll have a better idea of how season three fits into the mix when it premieres in January. Check out the trailer here.