Today in Trump's America: Trump refused to make a statement honoring McCain's service and heroism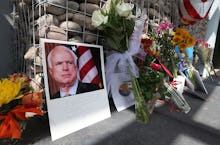 Welcome to Mic's daily read on Donald Trump's America. Want to receive this as a daily email in your inbox? Subscribe here.
Good morning from Emily Singer at Mic.
Here's what's happening in Trump's America:
• President Donald Trump has executive time Monday morning, as his day doesn't begin until 11:30 a.m. when he'll receive his daily intelligence briefing.
About last night: Trump gives one final poke in the eye to John McCain
Even in death, President Donald Trump continued his feud with the late Sen. John McCain. He refused to issue a statement that praised the senator's lifetime of service, the Washington Post reported. Instead, Trump opted for an emotionless tweet that said nothing about the life McCain led.
According to the Washington Post, White House aides, including chief of staff John Kelly and press secretary Sarah Huckabee Sanders, wanted to issue a statement calling McCain a "hero" and praising his service both in Vietnam and in the Senate.
Trump reportedly nixed that plan, opting for a Saturday tweet instead.
"My deepest sympathies and respect go out to the family of Senator John McCain. Our hearts and prayers are with you!" Trump tweeted after McCain's office announced his death Saturday night.
Trump's two-sentence tweet said absolutely nothing about who McCain was or how he served his country. McCain was in the Navy from 1958 until 1981, ending his career as a decorated captain with awards like the Silver Star, Legion of Merit, Distinguished Flying Cross and Purple Heart. He was held as a prisoner of war for over five years.
Trump has denigrated McCain and his service for years, saying during the 2016 presidential campaign that McCain wasn't a war hero because he was "captured" and held as a prisoner of war during his service in Vietnam — which Trump avoided by getting a doctor's note about "bone spurs" in his feet.
Trump continued to attack McCain even in the senator's final days, mocking McCain's controversial vote against the repeal of the Affordable Care Act in July 2017, constantly bringing up McCain's now-infamous "thumbs down" vote against repeal.
Trump's say-nothing statement is in stark contrast to other political leaders — both past and present — who heaped praise on McCain.
"Few of us have been tested the way John once was, or required to show the kind of courage that he did," former President Barack Obama said in a statement marking McCain's death. "But all of us can aspire to the courage to put the greater good above our own. At John's best, he showed us what that means. And for that, we are all in his debt. Michelle and I send our most heartfelt condolences to Cindy and their family."
"John McCain's life is proof that some truths are timeless," former Vice President Joe Biden said in a statement. "Character. Courage. Integrity. Honor. A life lived embodying those truths casts a long, long shadow. John McCain will cast a long shadow. His impact on America hasn't ended. Not even close. It will go on for many years to come."
In fact, McCain asked former President George W. Bush and Obama — both of whom defeated him in his two presidential bids — to deliver eulogies at his funeral. McCain did not invite Trump.
Today in Trump's America: Who will take over McCain's Senate seat?
McCain's death leaves a vacancy in the Arizona Senate seat he held for six terms, and the race behind the scenes for who gets to replace him has already begun.
Arizona GOP Gov. Doug Ducey gets to appoint McCain's successor — who will serve until Arizona's next statewide election in 2020.
Ducey won't announce who he chose as McCain's successor until after McCain's funeral, but Arizona state law requires Ducey to appoint someone from the same party as the senator who vacated the seat. That means a Republican will succeed McCain.
But it's unclear for now who that Republican will be.
Cindy McCain, John McCain's wife, has been mentioned as a possible placeholder until a special election will be held in 2020. So has former Arizona Sen. Jon Kyl, who served alongside McCain as Senate minority whip until retiring in 2013.
There's also speculation Ducey could appoint Rep. Martha McSally, who is currently running for Arizona's other Senate seat being vacated by retiring Sen. Jeff Flake.
Nevertheless, Republicans will likely have a replacement in place before a confirmation vote on Trump Supreme Court nominee Brett Kavanaugh, giving the GOP more breathing room in case any GOP senator decides to vote against Kavanaugh's nomination.
And the rest…
McCain the maverick: McCain's death dominated the news over the weekend. I wrote an essay about what McCain's passing means for the Republican Party.