Stories That Pay Off: Here's how expensive it can be to own a dog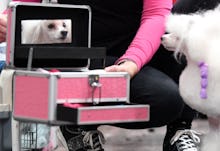 We all know dogs are the best, but raising a four-legged sidekick can cost a pretty penny. According to a new Rover.com survey of 1,500 adults in the U.S., many owners like to treat their pet to a life of luxury, like the occasional doga class (yoga for dogs) or birthday meal — and average expenses related to dog ownership can add up to more than owners anticipate. Man's best friends may not be cheap, but surely, they're priceless.
This week, Mic also asked experts about your rights when asking for parental leave, explored current protests by prisoner groups for a fair wages and examined why booking two one-way tickets may be a cheaper option than booking round-trip airfare.
If you don't have a dog or are in denial that you spend more than $100 on your pup every month, you may wonder what exactly people buy for their pooches.
In a perfect world, taking time off after starting a family wouldn't be an issue. Here in the United States you might want to be prepared.
A deadly prison riot in April has led to a nationwide prisoner protest for higher wages and better conditions.
From Miami to Tokyo, here are the top 10 domestic and international destinations you can save on airfare by buying two one-way tickets