#StopKavanaugh protesters march in huge numbers as lawmakers try new tactics to thwart confirmation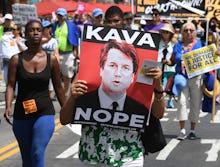 With United States Supreme Court nominee Brett Kavanaugh's Senate hearing set to begin Sept. 4, activists and lawmakers alike are ramping up their efforts to thwart the controversial nominee's confirmation.
Across the nation on Sunday, Americans took to the streets for a day of "Unite for Justice" protests opposing Kavanaugh's nomination. Organizers reported a total of 182 events took place across the country, which is, according to NARAL, the largest single-day protest against a Supreme Court nominee in history.
"Today, Americans in every single state sent a clear message: The time to come out as a no on Kavanaugh is now," Anna Galland, executive director of MoveOn Civic Action, said in a statement. "As senators head back to Washington, D.C., to consider their vote, the chorus of voices shouting no on Kavanaugh will ring clearly in their ears. Today showed that we have the energy and momentum. Senators would be wise to listen."
The Unite for Justice protests were the latest act of activism against Kavanaugh, who many believe would provide a deciding vote against abortion rights and other civil rights issues. According to a CNN poll released Aug. 16, only 37% of Americans support Kavanaugh's nomination — the lowest support of any Supreme Court nominee since 1987.
Sunday's widespread demonstrations included sizable gatherings in towns and cities both large and small, including New York City; San Francisco; Maplewood, New Jersey; Seattle; San Diego; San Antonio; Harrisonburg, Virginia; Reno, Nevada; and outside the George W. Bush Presidential Center in Dallas.
A protest in Anchorage, Alaska, drew at least 100 attendees as one of the state's senators, Lisa Murkowski, remains a vital swing vote on Kavanaugh's nomination. Protester Erin Jackson-Hill chanted, "Lisa, we're begging you, please say Kava-no!," KTUU reported.
One protest in Knoxville, Tennessee, was interrupted by white nationalist and neo-Nazi counterprotesters, the Knoxville News Sentinel reported. The disruption resulted in a shouting match but no violence, and the rally was able to continue despite the counterprotest.
"I feel of all the actions Trump could take, this would be the hardest to undo, it could last for decades," San Francisco protester Chela Zabin told SFGate. "I'm hoping these protests will sway some of the senators who might be on the fence about Kavanaugh."
Protesters were spurred on by former secretary of state and 2016 presidential nominee Hillary Clinton, who shared the event on Twitter Sunday and noted the "next Supreme Court justice could shift the court to the right for decades, with devastating consequences for reproductive rights, health care, workers' rights and voting rights."
Democratic senators change up their tactics
As their constituents take to the streets to voice their opposition to Kavanaugh, Democratic lawmakers are pushing back on Capitol Hill.
While the Democrats' first strategy — delaying Kavanaugh's confirmation vote until the full records from his time working in the George W. Bush administration can be released — seems unlikely to work, they are now pointing to President Donald Trump's current legal woes to justify postponing the nomination of the president's hand-picked nominee.
Following Trump lawyer Michael Cohen's guilty plea on campaign finance violations Tuesday — in which he implicated Trump in his crimes — Democrats are attempting to stop the Senate from confirming Kavanaugh to a position that could potentially help decide Trump's legal fate.
"It is unseemly for the president of the United States to be picking a Supreme Court justice who could soon be effectively a juror in a case involving the president himself," Senate Minority Leader Charles E. Schumer said during a Wednesday floor speech. "The prospect of the president being implicated in some criminal case is no longer a hypothetical that can be dismissed."
Ten Democratic Senators on the Senate Judiciary Committee sent a letter to committee chairman Sen. Chuck Grassley on Friday urging that Kavanaugh's hearing be postponed "in light of this week's developments." The letter called for a special committee meeting to "discuss a bipartisan, fair and transparent process for moving forward."
"The lack of due diligence that candidate and President Trump has displayed in selecting advisers and judicial nominees should give every senator pause," the letter reads. "This nominee is being considered for a lifetime appointment to the highest court in the country. If confirmed, he will have the opportunity to rule on issues of critical importance to all Americans for the next several decades. He may also be called upon to decide whether this president should face investigation or possible indictment for criminal wrongdoing."
The Cohen investigation has amplified concerns about Kavanaugh's comments on prosecuting presidents, which had already been a red flag for Democrats due to the ongoing probe into the Trump campaign's Russian ties. The Supreme Court nominee, who previously served on the special prosecution team investigating former president Bill Clinton, wrote in a 1998 memo that he did not believe Clinton should be indicted while in office.
Kavanaugh also argued in a 2009 Minnesota Law Review article that presidents should be exempted from questioning in criminal cases, calling the "burdens of a criminal investigation" "time-consuming and distracting." During a panel discussion in 1999, Kavanaugh suggested that United States v. Nixon — which struck down absolute presidential privilege and the idea that a president can be immune from being subpoenaed — was perhaps "wrongly decided," questioning whether the "tensions of the time led to an erroneous decision."
"We have a Supreme Court nominee who's being pushed through ... that has said through his writings and his speeches that he does not believe the president should be subject to a criminal investigation," Sen. Cory Booker (D-N.J.) said, as quoted by the Post. "What I want right now when it comes to Kavanaugh is to wait for this Mueller probe to be done."
Republicans, in response, have rebuffed Democrats' attempts to postpone the nomination. White House press secretary Sarah Huckabee Sanders called the stalling tactics "desperate and pathetic," while Republican senator and key swing vote Susan Collins said she didn't "see a basis" for delaying the hearings in the wake of the Cohen plea.
Though Democrats are pushing for a slower nomination process, there is one way in which a speedier process could be advantageous. Republicans currently hold a 50-49 majority in the Senate following the recent passing of Sen. John McCain, meaning that even a single Republican defection could derail the nomination if all Democrats vote against Kavanaugh. Should McCain's replacement be appointed before Kavanaugh's confirmation, returning the Senate to a 51-49 split, one Republican defection would result in a 50-50 tie that would be ultimately decided by Vice President Mike Pence.