Afropunk Festival in Brooklyn allegedly removed couple from VIP over T-shirt criticizing event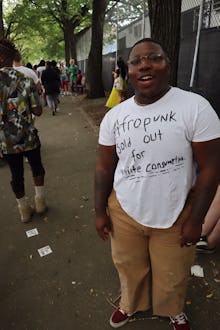 Ericka Hart says that she, her partner Ebony Donnley and their friend Lorelei Black were removed from the VIP section of the annual Afropunk festival in Brooklyn, New York, on Sunday because Donnley's T-shirt bore a message criticizing the event.
"Afropunk sold out for white consumption," the shirt read.
Hart, 32 — a New York-based sex educator and activist — called attention to the alleged incident in a Twitter post Sunday night.
"My partner and I were just escorted out of backstage by two large security guards," Hart wrote.
The message on Donnley's shirt refers to growing criticism that the Afropunk festival — one of the largest black music festivals in New York City — is losing its core values. It began as a free event in 2005 highlighting black punk artists, but organizers started featuring more mainstream performers and charging an entry fee as it grew more popular.
"Unfortunately, this incident has only confirmed the issues many black folks, especially queer and trans, in Brooklyn have raised for years about Afropunk's interest in commodifying blackness at the expense of black people under the guise of 'punk' and radical politics," Hart wrote in an email Monday.
Hart explained that Donnley is a patron of the Afropunk festival, and was invited to the festival's VIP section Sunday.
"[Festival co-owner Matthew Morgan] came up to my partner and said, 'What's this?' while pointing at his shirt and then says, 'Well why are you here?' leaving no space for dialogue," Hart continued.
Hart said that Morgan then approached some security guards and whispered something to them. When he returned, Hart asked what was wrong.
"This is my house," Morgan allegedly replied. "They have to leave," he told the security guards.
As Hart, Donnley and Black were being escorted out, Hart said she and Donnley tried explaining to one guard what had happened.
"Well, you did this to yourself," the security guard allegedly replied.
Afropunk has not responded to Mic's request for comment.
Donnley's T-shirt bore another message that read, "Boycott Red Apple Nails," referring to the assault of a black woman customer by employees at the Happy Red Apple nail salon in Brooklyn on Aug 3. But Hart said Morgan did not point out this message when he sought to remove them.
Hart, who is black and queer, says she has attended the festival for seven consecutive years and once saw Afropunk as a liberating space.
"It was one of the few spaces I could go and see me reflected everywhere," she wrote in an Instagram post Sunday. Her alleged removal "marked the end of [her] participation" at Afropunk, Hart added.
A conversation about the shirt is all Hart wanted before they were told they had to leave, she says. She added that the way she, her partner and their friend were treated goes against the activism that Afropunk promotes through its platforms, like its recently-launched social justice podcast Afropunk Solution Sessions.
"If Afropunk is for black people, about resistance and really standing by their hashtag #SpeakTruthToPower, why would this T-shirt be an issue?" Hart said. "How is it, 'Power to the people' and also, 'His house'? The owner regarded us like we committed a crime or broke a violation when he went against several of the tenets of the festival, one of which is 'no bullying.'"