Two days after John McCain's death, Trump finally issues a statement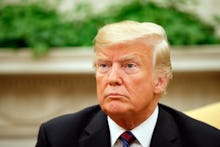 President Donald Trump issued a full statement on Sen. John McCain late Monday afternoon, two full days after McCain's death.
The statement comes after Trump faced a torrent of criticism for his silence on McCain's death, as well as the White House's decision to raise the American flag, rather than fly it at half-staff, until McCain is finally laid to rest on Sunday.
Trump said he has now decided to lower the flag to half-staff until McCain's burial.
"Despite our differences on policy and politics, I respect Senator John McCain's service to our country and, in his honor, have signed a proclamation to fly the flag of the United States at half-staff until the day of his interment," Trump said in a statement. "I have asked Vice President Mike Pence to offer an address at the ceremony honoring Senator McCain at the United States Capitol this Friday."
The American Legion, a major veterans group in the U.S., criticized Trump for not lowering the flag in McCain's honor.
"The American Legion urges the White House to follow long-established protocol following the death of prominent government officials," Denise Rohan, national commander of the American Legion, said in a statement.
Trump had also been asked twice by reporters on Monday whether he had any thoughts on McCain's passing, but both times he sat stone-faced and refused to answer.
The statement Trump released Monday says very little about McCain and his decades of service to the United States.
McCain, for his part, also took shots at Trump in a final statement he wrote before his death, and which a staffer read aloud Monday.
"We weaken our greatness when we confuse our patriotism with rivalries that have sown resentment and hatred and violence in all the corners of the globe," McCain wrote in the statement, which was read by family spokesman Rick Davis. "We weaken it when we hide behind walls rather than tear them down, when we doubt the power of our ideals rather than trust them to be the great force for change they have always been."