Mic Daily: Trump finally releases a statement on John McCain — and other top stories of the day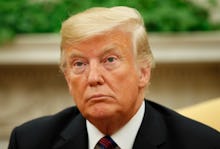 Welcome to Mic Daily: Mic's newsletter that cuts through the noise and lands in your inbox every weekday. We carefully curate each edition to send you a cross section of our most vital stories of the day.
Want more entertainment news in your inbox? Sign up for Hype Daily — Mic's morning entertainment roundup. It's got all the news you need to start your day.
President Donald Trump issued a full statement on Sen. John McCain late Monday afternoon, two full days after McCain's death.
The statement comes after Trump faced a torrent of criticism for his silence on McCain's death, as well as the White House's decision to raise the American flag, rather than fly it at half-staff, until McCain is finally laid to rest on Sunday.
With United States Supreme Court nominee Brett Kavanaugh's Senate hearing set to begin Sept. 4, activists and lawmakers alike are ramping up their efforts to thwart the controversial nominee's confirmation.
Across the nation on Sunday, Americans took to the streets for a day of "Unite for Justice" protests opposing Kavanaugh's nomination. Organizers reported a total of 182 events took place across the country, which is, according to NARAL, the largest single-day protest against a Supreme Court nominee in history.
The late Sen. John McCain (R-Ariz.) took a parting shot at President Donald Trump, with a statement written before his death that was released Monday, knocking Trump's populist rhetoric and divisive ideas.
"We weaken our greatness when we confuse our patriotism with rivalries that have sown resentment and hatred and violence in all the corners of the globe," McCain wrote, which was read by family spokesman Rick Davis. "We weaken it when we hide behind walls rather than tear them down, when we doubt the power of our ideals rather than trust them to be the great force for change they have always been."
Nearly a year since the New York Times and the New Yorker filed their bombshell reports on Harvey Weinstein, which kicked off the #MeToo movement, California is poised to pass laws preventing employers from silencing victims of sexual harassment and assault.
Sacha Baron Cohen's quest to answer the question of Who Is America? has come to an end. The half-hour Showtime series finished its seven-episode run on Sunday night, and, if Cohen's Twitter is to be believed, the season finale was actually a series finale.
It's probably for the best.