How Ol' Dirty Bastard's son is using cryptocurrency to honor his dad's legacy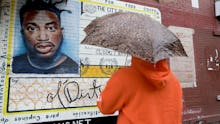 Hip-hop artists have always been vanguard of not just music, but fashion, art and technology. So it's no surprise that some in hip-hop are jumping into the novel world of cryptocurrencies.
Cryptocurrencies have become a cultural phenomenon since they emerged after the financial crisis of 2008. These virtual coins, like bitcoin or ether, allow users to make transactions between other people easily without oversight from a bank or financial institution.
From Nas being an early investor in Coinbase, the successful cryptocurrency trading platform, to rapper Akon's recent announcement that he's creating a "crypto city" in Senegal, many in hip-hop are recognizing the potential for digital currencies to change society and the music industry. And others are creating their own currencies as a way of building an economy around themselves and other artists, independent of oversight by a major label.
This is the intention behind Dirty Coin, a digital currency proposed by Barsun Jones, the son of the late rapper Ol' Dirty Bastard. According to Jones, the coin would offer access to ODB merchandise as well as help support up-and-coming artists.
"I'm going to give you a chance to learn how to run your own business," Jones said in an interview with Mic Dispatch. "That's supposed to be done before you even get signed with a label, but you don't have time to do that when you're trying to just get fed."
To Jones, merging his dad's contributions to hip-hop with the future of technology is the perfect way to honor his legacy.
"Bitcoin is the future of money and all the fans want a part of the future of Ol' Dirty Bastard," Jones said in a statement, Pitchfork reported. "In the past, dad's music was ahead of its time, so it makes sense that he would be ahead of the technology of money now."
Check out episode 13 of Mic Dispatch above — only on Facebook Watch.
To catch future episodes of Mic Dispatch, follow Mic Dispatch on Facebook Watch. For more stories about the show, visit the Mic Dispatch collections page.