Hype Daily: Louis CK steps back into the spotlight — and other entertainment news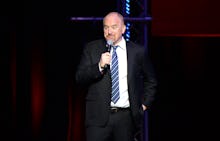 Welcome to Hype Daily, Mic's morning entertainment news roundup. Here's everything you need to catch up on in the entertainment world and what to look forward to today. If you haven't already, subscribe here to receive Hype Daily as an email in your inbox every morning during the week.
Good morning, folks. It's Tuesday! Thanks for spending a part of your morning with me. Here are the stories you should know about to get your day off on the right foot.
Louis C.K. is trying to win you back over again
Well, it was only a matter of time before comedian Louis C.K. inevitably tried to worm his way back onstage. According to the New York Times, C.K. performed a set at the Comedy Cellar in New York City Sunday night — his first public performance since five women accused the comedian of sexual misconduct. This included inviting two of the women back to his hotel room and then masturbating in front of them. (He admitted the accusations were true.)
The crowd reportedly greeted C.K. "warmly," welcoming him "with an ovation even before he began."
"It sounded just like he was trying to work out some new material, almost like any time of the last 10 years he would come in at the beginning of a new act," Noam Dworman, the club's owner, said, according to the Times.
Meanwhile, Rebecca Corry, one of the women who first accused C.K. of misconduct, wrote in Vulture earlier this year that her life has essentially been a never-ending stream of death threats and harassment since coming forward. Neat.
In the new Roseanne spin-off, Roseanne Conner will reportedly be killed off
Apparently, when Roseanne spin-off The Conners eventually premieres on ABC, the family's matriarch, Roseanne Conners, will be dead.
In case you forgot, The Conners is ABC's solution to keep Roseanne going without the titular comedian Roseanne Barr, who spurred Roseanne's cancelation by tweeting a racist insult at former adviser to the Obama administration, Valerie Jarrett.
In an interview with the Sunday Times, John Goodman, who plays Roseanne's husband Dan, seemed to confirm Barr's character will be killed off.
"It's an unknown," Goodman said of his character in The Conners. "I guess he'll be mopey and sad because his wife's dead."
Of course, it could have just been an off-hand comment, but killing Barr's character off might be the easiest way — it's still pretty messy — to keep the show going.
Put this on your radar: The Shop
Tuesday night, HBO will premiere the first episode of The Shop, a docuseries executive produced by LeBron James that will feature roundtable discussions with "the biggest names in sports and entertainment," according to HBO.
Each episode will apparently take place in a different barbershop in the U.S., a riff on the idea that barbershops have long been a place of cultural importance — particularly in black communities — as a social gathering space.
"The series will visit barbershops around the country to gather distinguished individuals who can speak honestly on sports, music, pop culture, world events, business and other culturally relevant topics," HBO said.
The first episode features Snoop Dogg, Jon Stewart, Maverick Carter, Candace Parker, Draymond Green, Odell Beckham Jr. and, of course, LeBron James himself. It premieres Tuesday at 11 p.m. Eastern. You can watch the trailer here.
Correction: Aug. 28, 2018