Today in Trump's America: Manafort reportedly sought plea deal for second trial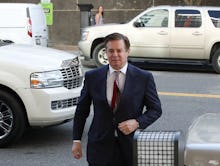 Welcome to Mic's daily read on Donald Trump's America. Want to receive this as a daily email in your inbox? Subscribe here.
Good morning from Emily Singer at Mic.
Here's what's happening in Trump's America:
• It's primary day in Arizona and Florida — where voters will choose nominees in critical gubernatorial, Senate and House contests.
About last night: Manafort sought plea deal for second trial, WSJ reports
Trump's praise for his former campaign chairman Paul Manafort as a "brave man" who "refused to break" may have come too soon, as the Wall Street Journal reported Monday night Manafort sought a plea deal with special counsel Robert Mueller for his upcoming trial in Washington, D.C.
According to the Journal's report, the talks between Manafort's defense lawyers and Mueller's team broke down as the jury in his last trial in Virginia deliberated on a slew of tax evasion and bank fraud charges.
But the fact Manafort was — and possibly still is — considering a plea deal could incense Trump, who has grown worried as federal probes have now reached his innermost circle.
Today in Trump's America: Voters are voting!
It's primary day in Arizona and Florida — two states with key contests that could determine which party controls the House and Senate after the November midterms.
In Arizona, all eyes are on a GOP Senate primary to replace retiring Republican Sen. Jeff Flake. Rep. Martha McSally, the establishment favorite, is expected to beat back two right-wing opponents in state Sen. Kelli Ward and former Maricopa County Sheriff Joe Arpaio — whose bid never really got off the ground. The winner of the GOP Senate primary is expected to take on Democratic Rep. Kyrsten Sinema in November in a race currently rated a toss-up by Inside Elections, a nonpartisan political handicapping outlet.
But Democrats in Arizona also have a handful of primaries, including in the state's gubernatorial election and a House contest in Arizona's 2nd District — which is vacant thanks to McSally's Senate bid. In the 2nd District race, former Rep. Ann Kirkpatrick is seeking to come back to Congress, but she faces a tough primary against former state Rep. Matt Heinz.
In Florida, Democrats have a competitive primary for governor. The seat is open as current GOP Gov. Rick Scott is term-limited — and is instead running for Senate to challenge Democratic Sen. Bill Nelson.
Former Rep. Gwen Graham — the daughter of Bob Graham, who served as both governor and senator from the Sunshine State — is the front-runner in the crowded field. But three other male Democratic challengers are not far behind, including the Bernie Sanders-backed Andrew Gillum, former Miami Beach Mayor Philip Levine and wealthy businessman Jeff Greene.
Whoever wins that primary is likely to take on GOP Rep. Ron DeSantis, the front-runner in the Republican gubernatorial primary. DeSantis has surged ahead of Florida Agriculture Commissioner Adam Putnam, thanks to an endorsement from Trump.
There are also a handful of House primaries to watch, including a Democratic primary in Orlando where former Rep. Alan Grayson is trying to win back his old seat from current Democratic Rep. Darren Soto. Grayson lost a Democratic Senate primary in Florida in 2016 as he was dogged by domestic abuse allegations.
Capitol Hill happenings: Federal court strikes down North Carolina congressional map
A three-judge panel struck down North Carolina's congressional map Monday as an unconstitutional partisan gerrymander, ruling the GOP-controlled state legislature drew House district lines to favor Republicans.
The ruling could throw North Carolina's midterm elections into chaos, as the court ordered new maps that could go into effect as soon as the November midterms. And given North Carolina already held its primary elections, it raises questions about whether and how new nominees should be chosen.
The court proposed holding primaries for the new districts on Nov. 6 — midterm election day — and then holding a general election before the new Congress is sworn in. The court also said it's possible to not hold primaries, citing the Republican-controlled legislature's own decision to not hold primaries for some state offices.
North Carolina is currently using a House map that was redrawn for the 2016 elections after a court ruled the previous map was an unconstitutional racial gerrymander.
The Republican-controlled General Assembly redrew the lines, and again faced a lawsuit from groups who alleged the new map disproportionately favored Republicans — and the three-judge panel agreed.
"The General Assembly expressly directed the legislators and consultant responsible for drawing the 2016 Plan to rely on 'political data' — that is, past election results specifying whether, and to what extent, particular voting precincts had favored Republican or Democratic candidates, and therefore were likely to do so in the future — to draw a districting plan that would ensure Republican candidates would prevail in the vast majority of the State's congressional districts, and would continue to do so in future elections," the panel wrote in its decision.
Under the current map, Democrats hold just three of North Carolina's 13 House seats, despite the fact North Carolina is a swing state.
And the rest…
John McCain: The feud between Trump and Sen. John McCain continued Monday, even after McCain's death. Trump — who petulantly refused to say anything positive about McCain multiple times on Monday — was finally forced to lower the flags to half-staff after backlash from veterans groups and elected officials on both sides of the aisle. And McCain had an aide read a statement he wrote before his death that took one last parting shot at Trump and his orthodoxy. Memorials and services for McCain begin Wednesday in Arizona and will culminate in his burial at the Naval Academy Sunday.
Trade: Trump tried to change the subject from McCain Monday by announcing a new NAFTA deal. The only problem is there is no new NAFTA deal; it's still in preliminary stages. Negotiators are still working, and the process to rip up the deal and replace it is much more complicated than Trump is making it out to seem. Even worse for Trump is that his showmanship from the announcement failed spectacularly, when he sat awkwardly in silence waiting for Mexican President Enrique Peña Nieto to be piped in on a conference call.