Michael Cohen's lawyer is playing into Trump's hands as "error" about meeting raises question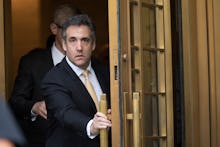 Lanny Davis is walking back two explosive claims about knowledge Michael Cohen supposedly has about President Donald Trump's actions.
Davis, the attorney representing Cohen, made waves last week when he suggested the former Trump fixer was willing to tell special counsel Robert Mueller the president had prior knowledge about Russia hacking emails from Hillary Clinton and the Democratic Party in 2016.
Davis was also the unnamed source that claimed to CNN in July that Cohen told associates Trump knew of his eldest son's infamous Trump Tower meeting with a Kremlin-linked lawyer in advance. If true, the information could be some of the most damning evidence yet of conspiracy between Trump and the Russians. But now, Davis is retreating from the claims.
First, in an interview with the Washington Post over the weekend, Davis told reporters he is "not sure" if Cohen has information indicating Trump knew Russia would hack Clinton and the Democrats.
"There's a possibility that is the case," Davis told the Post. "But I am not sure."
Then on Monday, Davis admitted he was the anonymous source behind a CNN story that reported Cohen had information suggesting Trump had approved Donald Trump Jr.'s June 2016 meeting with Natalia Veselnitskaya, whom he believed to have dirt on Clinton. He had directly denied being the source for that story over the weekend when it came to light that Cohen, in a closed-door meeting with Congress in 2017, said he was unsure if Trump knew about the Veselnitskaya meeting.
"I made a mistake," Davis told Buzzfeed News Monday.
CNN stands behind its original report, even after the Post acknowledged Sunday that Davis had been the paper's source.
But Davis' admission Monday, along with backtracking his claims that Trump knew of Russia's email hack, raise significant questions about the Cohen team's credibility.
That's a major issue, as it gives Trump and his allies an opportunity to punch back after one of the most damaging weeks of his presidency.
Cohen pleaded guilty to eight charges Aug. 21, including two campaign finance violations he said he committed "in coordination and at the direction of" Trump. That same afternoon, Paul Manafort, Trump's former campaign chairman, was convicted on eight of the 18 bank and finance fraud charges he was facing in Virginia.
The one-two punch put Trump on his heels and appeared to put the president in significant legal and political peril.
Cohen's account of Trump's involvement in his efforts in 2016 to silence Stormy Daniels and Karen McDougal, who say they had affairs with the president years earlier, are still huge political and legal issues for Trump.
But the mixed messages out of the Cohen team provide Trump with a line of attack as he attempts to undermine his former attorney's credibility. Trump already pounced on Davis' walk-back over the weekend, tweeting after Cohen's attorney "clarified the record" that the CNN report about the Trump Tower meeting was "just another phony story by the Fake News Media!"
It's likely Davis' latest flub will be used as ammunition by the Trump camp in its attacks on both Cohen and Mueller, who is leading the investigation into possible collusion between the Trump campaign and the Kremlin, along with potential obstruction of justice on the part of the president.
Davis acknowledged to the Post he made an "error."
"I should have been more clear — including with you — that I could not independently confirm what happened," Davis told the outlet. "I regret my error."