Lauryn Hill to Robert Glasper: I "continue to be a door opener, even if the blind don't see it"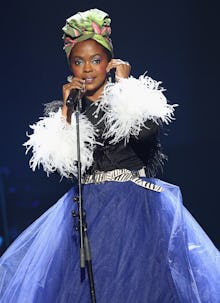 Lauryn Hill has broken her silence around allegations made by jazz musician Robert Glasper earlier this month that she stole music to create her classic debut album, The Miseducation of Lauryn Hill, which turned 20 on Aug. 25.
In a blog posted to Medium on Monday night, the singer called out Glasper for his scathing critique of her.
"I'm confused as to why such a principled musician, who thought I 'stole' from his friends, would show up to work for me anyway," Hill wrote. In the same interview in which he criticized Hill, Glasper told 97.9 The Box that he played piano for the rapper/singer during a gig for Montblanc Jewelry in 2008 and worked with Hill on 2015's Nina Revisited: A Tribute to Nina Simone.
"If that was hypocrisy or opportunism instead of genuine interest, it would further explain why an artist would feel the need to put his or her guard up," Hill continued in her Medium post.
Speaking to The Box, Glasper said that Hill doesn't deserve credit for creating Miseducation, which scored three top 40 hits in the late 1990s. In 1998, the opus — on which she's also credited as executive producer — earned her five Grammys, including the highly coveted album of the year. Famously, it's also her only studio album; Glasper says it's her only claim to fame.
"You haven't done enough to be the way you are, you just haven't," Glasper said during the interview. "The one thing you did that was great, you didn't do."
But Hill is not accepting Glasper's attempts to erase her contributions to music and culture, and she proceeded to list her contributions in her Medium post. As Hill laid it out, they also include the music she made as part of long-defunct hip-hop trio The Fugees, giving mothers encouragement through her song "To Zion," contributing to a more diverse representation of black women in hip-hop, being a mother of six and her ability to tour and employ a live band consistently for several years since her debut.
"Show me an artist working now who hasn't been directly influenced by the work I put in, and I'll show you an artist who's been influenced by an artist who was directly influenced by the work that I put in," Hill asserted. "I was and continue to be a door opener, even if the blind don't see it, and the prideful are too proud to admit it. I lived this, you watched this and heard about it."
Another point of contention for Glasper was the alleged way Hill treats her live musicians. He said that during the final rehearsal for the event he played with Hill in 2008, Hill's manager told the band that their pay was getting cut in half because "Lauryn was not feeling the way you guys are learning the music."
"Don't have the details or recollection of cutting the band's pay in half," Hill said in response to Glasper's comment. "If fees had been negotiated and confirmed without my knowledge, I may have asked for them to be adjusted. But I would never just cut a musician's pay arbitrarily unless I had a legitimate reason."
Hill finished the blog post on a lighter note, by sharing gratitude for the musicians who helped create the groundbreaking Miseducation in 1998.
"I appreciate everyone who was a part of it, in any and every capacity," Hill wrote. "It wouldn't have existed the way that it did without the involvement, skill, hard work, and talents of the artists/musicians and technicians who were a part of it, but it still required my vision, my passion, my faith, my will, my soul, my heart and my story."