Trump accuses Google of "suppressing" positive news about his administration, vows action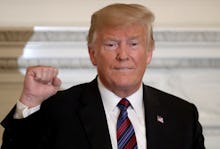 President Donald Trump accused Google of "suppressing voices of conservatives" on Tuesday morning, claiming without evidence that the search engine giant prioritizes results from left-leaning news outlets like CNN while burying results from what he calls "Republican/Conservative & Fair Media."
"Google search results for 'Trump News' shows only the viewing/reporting of Fake New Media," Trump wrote in a series of tweets. "In other words, they have it RIGGED, for me & others, so that almost all stories & news is BAD. Fake CNN is prominent. Republican/Conservative & Fair Media is shut out. Illegal?"
According to Google, its patented algorithm, known as PageRank, prioritizes top search results based on the number of factors, including the number of times a site references a given keyword, the number of outlets who link back to the site in question and how long the page in question has been in existence.
As Media Matters for America watchdog Matthew Gertz quickly pointed out, the president's accusations — including a suspicious statistic that "96% of results on 'Trump News' are from National Left-Wing Media," — were seemingly pulled from Monday night's episode of Lou Dobbs Tonight on Fox News. During the segment, Dobbs references a blog post that first appeared on right-leaning PJ Media, in which one reporter analyzed the news outlets that appeared most frequently in the first 100 search hits after she googled "Trump," and cross-referenced the results with Sharyl Attkisson's media bias chart.
In his Tuesday morning tweets, Trump vowed that the "serious situation" would "be addressed." It's not immediately clear what that meant.
Hours after the tweets were published, Google released a statement denying that its search results were biased "toward any political ideology."
"Search is not used to set a political agenda and we don't bias our results toward any political ideology," a Google spokesperson said in the statement sent to reporters. "Every year, we issue hundreds of improvements to our algorithms to ensure they surface high-quality content in response to users' queries. We continually work to improve Google Search and we never rank search results to manipulate political sentiment."
Recently, the president has alleged that the internet is censoring conservative voices. In an Aug. 20 interview with Reuters, Trump referenced the recent decisions by Facebook and Apple News to remove conspiracy peddler Alex Jones from the platforms, calling the choice "really dangerous."
"I won't mention names but when they take certain people off of Twitter or Facebook and they're making that decision, that is really a dangerous thing because that could be you tomorrow," Trump said.
August 28, 2018, 2:04 p.m.: this story has been updated.