The latest iPhone X 2018 rumors hint at price increases, more screen sizes and details on new colors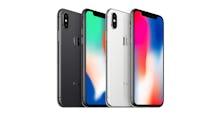 Rumors about the iPhone X release continue to swirl in advance of Apple's next big event, which usually happens during the first half of September. The latest iPhone rumors note that the price of the new device may require customers to fork over even more cash.
According to a report from Bloomberg, the iPhone coming in 2018 will offer more features, sizes and prices than previous editions. Citing an unnamed source, Bloomberg confirms many of the rumors we've previously heard surrounding the three iPhone sizes we can expect in the fall. As the story notes, and others have noted in the past and recently, smartphone makers like Apple are having trouble finding new people who want to buy the phone. With Apple looking to keep their lead in profits as a trillion-dollar company, the phone maker will shift course, from selling to more customers to increasing the average price of their phones.
"The iPhone is entering a period of zero-to-5% annual growth, and the things they're doing this fall will keep them on that path," Gene Munster, an Apple analyst and Loup Ventures managing partner, told Bloomberg. "Having a bigger screen is always a plus for demand."
A larger screen would let Apple charge more for an already pricey phone
The priciest iPhone, the iPhone X, comes in one screen size (5.8 inches) and is available at $999 (for 64GB) and $1,149 (for 256GB). The rumored 2018 iPhone X is expected to have a larger display option — 6.5 inches. Apple is known for charging more money for phones with larger screens: the iPhone 8, iPhone 7 and iPhone 6s are all cheaper than their 8 Plus, 7 Plus and 6s Plus counterparts (usually by $100). An iPhone X with a larger screen would allow the company to charge customers even more money for the already pricey device.
Along with potentially higher prices, Bloomberg's report also provides details about the colorful, slightly smaller 6.1-inch iPhone also reportedly coming in 2018. Many iPhone rumor sites have pointed out that sources say a third iPhone X size will emerge in addition to the 5.8 and 6.5 options. The phone is expected to be cheaper, with an LCD display instead of an OLED one. Naturally, because the phone will cost less, the 6.1-inch iPhone will look less expensive than the other two. According to Bloomberg, the device will have aluminum edges instead of the shiny stainless steel currently seen on the iPhone X. The back of the phone will come in actual colors instead of the plain black or white options seen in the current iPhone X.
While the most prominent iPhone rumors seem close to what Apple could announce in September, we won't know for sure until they actually take the stage.