Latino voter registration for November midterms fuels Inside Out/Vote public art project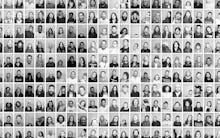 Inside Out/Vote is a voter registration drive dressed up as a traveling public art project.
An extension of French artist JR's 2011 Inside Out Project, the forthcoming initiative — which is supported by businesswoman and advocate Laurene Powell Jobs' Emerson Collective and launches Wednesday — will involve trucks of artists and organizers setting up photo booths in communities across the U.S., then photographing participants, plastering their portraits in designated public spaces and encouraging them to register to vote.
The project will be a partnership with local voter registration organizations in 20 American cities, with a special focus on mobilizing predominantly-Latino communities ahead of the midterm elections on Nov. 6.
"The message we're trying to drive home is, 'If you show up, you can make a difference,'" Paola Ramos, a lead organizer for Inside Out/Vote, said in an interview.
Ramos previously worked on an Inside Out campaign raising awareness around Dream Act beneficiaries — or "Dreamers" — and the issues they face. After witnessing the initiative's successes, Ramos decided a voter drive was a logical next step.
In July, researchers with the Voter Participation Center and Lake Research Partners predicted that people of color especially will have vastly lower voter participation rates in the 2018 midterm than they did in the 2016 presidential election.
"That's what we're trying to get people to understand," Ramos said. "It's important because, traditionally, millennials and people of color don't turn out during midterm."
Inside Out/Vote trucks have planned stops in areas where there are competitive elections at all levels — local and federal. The first traveling group will launch its tour Wednesday in Reading, Pennsylvania, and finish Oct. 6 in Tucson, Arizona. The second group begins in Atlanta on Thursday, and ends its trek Oct. 3 in Las Cruces, New Mexico.
"[We] really wanted diverse cities," Ramos continued, "cities where we can bring this art installation to communities that typically don't have access to that."
Organizers of the Reading stop will set up shop at the GoggleWorks Center for the Arts, and partner with Make the Road Pennsylvania, an organization building political power with local Latino and working class communities.
Photo booth photos will be printed immediately on the spot, after which participants will be encouraged to register to vote — if they have not already — and share their experience using the hashtag #IOPVote.
As Ramos prepares to lead the first truck, she said she is hopeful that the project will both function as a creative platform and encourage Latino voters to head to their polling stations this fall.
"We think that through the Inside/Out platform and through the installation of pictures, this is a way to open people's eyes and get them to think differently about their roles in their communities," she said.