Rep. Martha McSally wins Arizona Senate primary, notching a win for establishment conservatives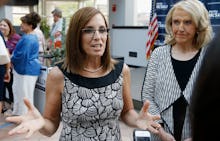 Arizona Rep. Martha McSally beat back two conservative hardliners on Tuesday night, securing the Republican nomination in the state's hotly contested upcoming Senate race.
McSally, the first woman combat pilot in United States history, defeated former state Sen. Kelli Ward and former Maricopa County Sheriff Joe Arpaio, the Associated Press reported just before 9:45 p.m. Mountain Time.
While Ward and Arpaio had trumpeted their hardline stances on immigration and their support for their president throughout the race, McSally had drawn comparisons to the more moderate, recently deceased Arizona Sen. John McCain.
After President Donald Trump's repeated squabbles with Arizona Sen. Jeff Flake and the latter's early retirement, the race had also represented a simmering battle of ideologies within the Republican Party: Could Trumpism be replicated successfully? Or would voters choose a return to the party's more mainstream, establishment values?
While it's unclear whether or not the GOP will continue to break with Trump's values come the general elections in November, what does seem likely is that Joe Arpaio — the self-proclaimed "toughest sheriff in America," who once bragged that the tent cities he oversaw in Phoenix were like a "concentration camp" for how poorly inmates there were treated — will now hang up his sheriff's hat for good.
Arpaio had lagged far behind in the polls for weeks, undercutting Ward's votes and essentially delivering a gift to Republicans in Washington who wanted to boost McSally to victory. Despite a presidential pardon by Trump for a misdemeanor contempt of court charge that brought his name to national prominence in August 2017, Arpaio's depleted approval rating has never looked worse — and is likely to vanquish him from the political stage for good.
Now, if McSally hopes to shore up votes from conservatives who supported Arpaio and Ward in the primary, she'll have to hustle — with the general election in 70 days, the contest is currently rated a toss-up by the nonpartisan political handicapping outlet Inside Elections.