Hurricane Maria caused an estimated 2,975 deaths in Puerto Rico, new report finds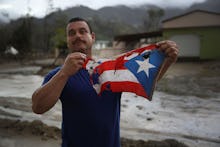 The governor of Puerto Rico on Tuesday accepted the findings of a George Washington University report that puts the total number of casualties caused by Hurricane Maria at an estimated 2,975 — far higher than the 64 deaths the island's government had initially claimed in December.
The new report, commissioned by Puerto Rico Governor Ricardo Rosselló and conducted by researchers at George Washington University's Milken Institute School of Public Health, studied death patterns on the island from 2010 to 2017, and compared them to the total number of deaths reported by the Puerto Rico Department of Health from September 2017 through February 2018.
According to text of the report, obtained by CBS News, the original government estimate of 64 deaths was so low initially because only deaths directly attributable to the storm — those caused by "structural collapse, flying debris, floods and drownings" — were classified as official hurricane casualties.
Meanwhile, scientists and journalists on the island had long argued that deaths that came as a result of widespread power outages and downed medical infrastructure — two factors that could massively inflate the number of dead being reported — were not being added to the government's official tally.
In the Tuesday report, researchers found that a lack of preparedness by doctors combined with a lack of communication from the Puerto Rican government about death certificate reporting had substantially contributed to the skewed death toll.
"During our broader study, we found that many physicians were not oriented in the appropriate certification protocol," the report reads, according to CBS. "This translated into an inadequate indicator for monitoring mortality in the hurricane's aftermath."
The findings also showed significant disparities in the likelihood of death for certain subgroups, including a 45% higher risk among "populations living in low socioeconomic development municipalities."
The numbers, while incredible, do not come as a total shock. In July, the Puerto Rican government quietly published a report acknowledging that the death toll from the hurricane likely exceeded 1,400 dead, and requested $139 billion in recovery funding from Congress.
In the coming days, the report says, the Puerto Rican government will review a list of recommendations on how to improve mechanisms to measure mortality rates on the island and will announce its next steps in how to implement them.
Carlos Mercader, executive director of the Puerto Rico Federal Affairs Administration, told CBS News that the agency takes the numbers "very seriously."
In the days after the storm ripped through the island, he added, "there were a lot of things that failed in their response, and we take responsibility for that."