'Mic Dispatch': Rappers use cryptocurrencies to fund their music; the fight to raise minimum wage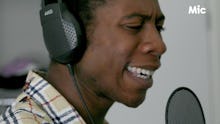 In the latest episode of Mic Dispatch, we explore how hip-hop artists are jumping into the novel world of cryptocurrencies. Cryptocurrencies have become a cultural phenomenon since they emerged after the financial crisis of 2008. These virtual coins, like bitcoin or ether, allow users to make transactions between each other easily without oversight from a bank or financial institution. From Nas being an early investor in Coinbase, the successful cryptocurrency trading platform, to rapper Akon's recent announcement that he's creating a "crypto city" in Senegal, many in hip-hop are recognizing the potential for digital currencies to change society and the music industry. Others are creating their own currencies as a way of building an economy around themselves and other artists, independent of oversight by a major label.
Next, we spend time with Bridget Hughes, a 27-year-old who lost her job at McDonald's, where she was making $9.50 per hour. Hughes says her responsibilities as a mother make it hard for her to find and keep a job — especially one that pays her near minimum wage. Hughes is one of the roughly 40.6 million people who live in poverty, despite unemployment being at an 18-year low. While searching for a job, Hughes protested with the national Poor People's Campaign to raise the minimum wage to $15 an hour. Previous efforts to pass a higher federal minimum wage have failed, and funding for safety nets set up to help working mothers and families have frayed in recent years.
Check out episode 13 of Mic Dispatch above — only on Facebook Watch.
To catch future episodes of Mic Dispatch, follow Mic Dispatch on Facebook Watch. For more stories about the show, visit the Mic Dispatch collections page.