Mic Daily: Jacksonville shooter wrongly identified by right-wing outlets — and other news of the day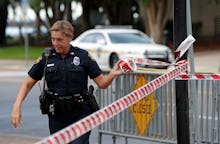 Welcome to Mic Daily: Mic's newsletter that cuts through the noise and lands in your inbox every weekday. We carefully curate each edition to send you a cross section of our most vital stories of the day.
Want more entertainment news in your inbox? Sign up for Hype Daily — Mic's morning entertainment roundup. It's got all the news you need to start your day.
The indictment of Rep. Duncan Hunter (R-Calif.) on Aug. 21 for allegations of illegally using campaign funds for personal expenditures and vacations was a game changer for Democrat Ammar Campa-Najjar in his bid in California's 50th District.
"The race is within our reach," Campa-Najjar, a former public affairs officer for the Department of Labor under former President Barack Obama, said in an interview. "When you have a vulnerable incumbent like this, you present a viable alternative."
At least seven pro-Trump media personalities and outlets falsely identified an anti-Trump Reddit user as the mass shooter who attacked a Madden NFL video game tournament in Jacksonville, Florida, over the weekend.
Pizzagate conspiracy theorist Mike Cernovich and Daily Caller writer Ian Miles Cheong tweeted out false reports Sunday accusing a Minnesota Reddit user named Pavel, 23 — who declined to give his last name and goes by "ravenchamps" on Reddit — of being David Katz, the 24-year-old gamer from Baltimore who allegedly killed two people and injured 10 more Sunday before killing himself.
Lanny Davis is walking back two explosive claims about knowledge Michael Cohen supposedly has about President Donald Trump's actions.
Davis, the attorney representing Cohen, made waves last week when he suggested the former Trump fixer was willing to tell special counsel Robert Mueller the president had prior knowledge about Russia hacking emails from Hillary Clinton and the Democratic Party in 2016.
Roy Oliver, the former Balch Springs, Texas, police officer who fatally shot 15-year-old honor roll student Jordan Edwards, was found guilty of murder Tuesday.
Oliver was also found not guilty of two counts of aggravated assault for firing shots into a vehicle of five teenagers.
The PSL hits stores Tuesday and fans are so thrilled that "pumpkin spice latte" has been a top trending topic on Twitter in the United States since Monday. Yes, even as a spokesperson for the McCain family released the final words of Sen. John McCain (R-Ariz.), or as Florida's primary day dawns, the return of the PSL is still one of the most talked-about issues in this country.
So, how much money does it make for Starbucks? We found out.