Goldman Sachs is the latest company to offer breast milk shipping for its female employees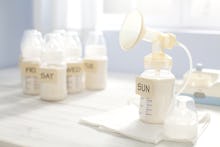 The competition among companies to have the coolest perks rages on. While there are the sillier ones, like free tattoos or time off for skiing, some companies are increasingly offering benefits that mirror the labor laws of more progressive countries and, in doing so, are pushing American corporate culture toward equality. One such example? Goldman Sachs will now cover the cost of shipping breast milk home for their female employees while they're traveling for business.
MilkShip is a new offering, launched in August by the work-life product company LifeCare, that provides new parents with refrigerated shipping kits and arranges transfer of the milk back home (or wherever they'd like it shipped). Goldman Sachs will cover the costs of the MilkShip program for its American employees. For international workers, where MilkShip does not operate, Goldman Sachs said they will reimburse the cost of shipping and refrigeration fees, per an internal memo obtained by CNN. (While MilkShip does not list their pricing online and did not return a request for comment, a similar service called Milk Stork sells kits between $79 and $159, depending on the amount of milk, plus shipping and handling.)
The financial services company is not the first to offer milk-shipping services to their employees. Twitter, Johnson & Johnson, Ernst & Young, Microsoft, Snap and IBM have led the way with this benefit. And it's not the only woman- and family-focused policy at Goldman Sachs, which also offers other benefits like four months of paid leave (men or "nonprimary caregivers" receive up to four weeks paid paternity leave within the first year of a child's birth or adoption).
As the United States lags pitifully behind the rest of the industrialized world as the only country without federally guaranteed paid parental leave, it's refreshing to watch companies make it "cool" to support mothers. Many financial-services and Silicon Valley companies offer paid leave, but they're constantly one-upping each other: Netflix now grants all parents an entire year of parental leave at full pay; Amazon will allow employees to share part of their parental leave with a spouse if the spouse's company doesn't offer paid leave; Facebook, Apple, Google and Snapchat cover egg-freezing costs.
"We want our employees to feel fulfilled, both personally and professionally," Laura Young, Goldman Sachs' global head of wellness, said in an email through a spokesperson. "However, being a parent, with all its rewards, can bring its own unique set of challenges. As such, we continuously look to provide our people with programs and services to support them in navigating the day-to-day issues that arise while empowering them with the tools to be successful at home and at work."
Until the United States reaches a tipping point in caring for new parents, and federal legislation is finally passed to mitigate the difficult first months of parenting, wealthy companies are leading the way. Thanks, capitalism.