Andrew Gillum, Ron DeSantis win primaries for Florida gubernatorial race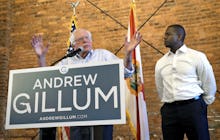 Progressive Andrew Gillum and Republican Ron DeSantis won their respective party primaries Tuesday evening to replace Rick Scott as Florida governor, setting up a gubernatorial battle this November that will likely be seen as a referendum on President Donald Trump.
The Associated Press called the races for Gillum and DeSantis by approximately 9:15 p.m. Eastern.
Gillum, the mayor of Tallahassee, made history with his upset win in the Democratic primary. He is now the Florida's first African-American major-party gubernatorial nominee and, if elected in November, would become the state's first black governor.
He and DeSantis will now move on to compete in November to replace Republican Rick Scott, who is term-limited, in what will be one of the most closely watched gubernatorial races in the country.
Republicans have held the governor's mansion in the swing state since 1999, but the GOP is seen as increasingly vulnerable because of controversies surrounding Trump. If Democrats can pull off a victory in November in the Sunshine State, it would likely be considered a significant blow to Trump and the Republicans ahead of the 2020 presidential race.
Gillum, 39, would represent a notably progressive swing for the state if he wins in November. The Bernie Sanders-backed mayor has been a proponent of a "Medicare-for-all" health care system and has been one of the most vocal opponents of Florida's infamous "Stand Your Ground" law, which factored into George Zimmerman's acquittal in the 2012 shooting death of Trayvon Martin in Sanford, Florida.
DeSantis has run as a strong supporter of Trump since launching his campaign in January, after the president tweeted in December that he'd make a "GREAT" governor of Florida.
DeSantis, who has represented Florida's 6th District in Congress since being elected in 2012, has frequently defended Trump on Fox News and in an advertisement in July that "teaches" his young children about the president.
Trump has gone on to endorse the Florida Republican on numerous occasions.
"Congressman Ron DeSantis is a special person who has done an incredible job," Trump tweeted Monday. "He will be a great governor and has my full and total endorsement!"
DeSantis beat out Florida Agriculture Commissioner Adam Putnam, the preferred choice of more moderate, establishment Republicans, to secure the GOP nomination.
Gillum defeated former Congresswoman Gwen Graham, who previously represented Florida's 2nd District in the U.S. House of Representatives and whose father, Bob Graham, had previously served as governor of the state. Graham had been expected to win, albeit in a close race.
Gillum will now square off with DeSantis in what will be viewed as a referendum on Trump in a battle to replace Scott, who easily won his primary battle Tuesday for the Republican nomination to challenge Bill Nelson, a moderate Democrat, for his U.S. Senate seat.
The race is already one of the most expensive in the country.