Hype Daily: Rotten Tomatoes' aims for more diversity — and other entertainment news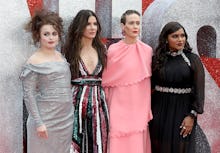 Welcome to Hype Daily, Mic's morning entertainment news roundup. Here's everything you need to catch up on in the entertainment world and what to look forward to today. If you haven't already, subscribe here to receive Hype Daily as an email in your inbox every morning during the week.
Good morning, folks. Happy Hump Day. Here are the stories catching my eye today.
Rotten Tomatoes revamped its pool of critics to be more inclusive
Tuesday, Rotten Tomatoes announced a big change that should make its scores reflective of a more diverse group of people.
The movie and television review aggregation site added 200 critics to its list of reviewers whose opinions it collates into a score from zero to 100%. Rather than focusing on more traditional media outlets, the new pool of critics includes more freelancers, podcasters and people who post reviews on platforms like YouTube.
"Rotten Tomatoes' revamped criteria have an increased focus on the critic's individual qualifications and body of work, rather than basing Tomatometer approval primarily on their publication or employer," a press release said. "This strategy will allow for a wider and more diverse pool of critics' perspectives to be included in the Tomatometer."
This change comes amid complaints the film criticism world, in general, is too white and male. A study found 82% of the reviews for the top 100 grossing movies in 2017, as collated by Rotten Tomatoes, were written by white men.
This imbalance theoretically has an effect on the overall scores for a film — and perhaps impacting an audience's interest ahead of release. For example, many stars of the all-women Ocean's 11 spin-off, Ocean's 8, thought the overwhelmingly male pool of critics who reviewed films had a skewed impact on which movies are deemed good or bad.
"It seems just unfair," Kaling said, per Yahoo. "Although if I had to base my career on what white men wanted, I would be very unsuccessful, so there is obviously an audience out there that wants to see movies like [Ocean's 8], the things that I work on, the things that Sarah [Paulson] works on."
Comedians debate the return of Louis C.K.
Speaking of white men, the entertainment world has been debating comedian Louis C.K.'s decision to dip a toe back into stand-up comedy just months after he admitted to sexual misconduct.
Sunday, C.K. performed a surprise set at the Comedy Cellar in New York City, a move that set off debate over whether comedians accused of sexual misconduct should be allowed to continue working in that industry and when they should be allowed to do so. One point many people brought up was the women whom C.K. harassed continue to be inundated with harassment and threats — meanwhile, C.K. can just walk into the Comedy Cellar and ask the emcee to perform a set without any warning. Which is what happened, FYI.
"Louis C.K. getting [an ovation] for dropping in to a comedy club less than a year after admitting to sexual misconduct tells you all you need to know about how society applauds powerful men for doing less than the minimum of decency," comedian Aparna Nancherla said on Twitter.
"You know how many talented women and [people of color] are knocking on doors trying to get some time in front of audiences or powerful people in this business?" comedian Kathy Griffin tweeted Tuesday. "And Louis just gets to glide back in on his own terms? Gosh, does it payoff to be in the boys club..the white boys club."
"THIS," Padma Lakshmi, host of Top Chef, said in response to Griffin. "Why don't we give our attention to people who are actually funny," and then listed several comedians, like Bowen Yang, Patti Harrison, Leslie Jones and Matt Rogers.
SNL's Michael Che, who's set to cohost the Emmys in September alongside his "Weekend Update" coanchor Colin Jost, didn't seem to fully agree.
"Man, I don't really know," Che said in one of several posts on his Instagram Story, per the Daily Beast. "I haven't talked to him in a while. I don't know any of his accusers. I don't know what he's done to right that situation, and it's none of my business. But I do believe any free person has a right to speak and make a living."
Put this on your radar: Bad Times at the El Royale
Tuesday, a new trailer dropped for Bad Times at the El Royale, an upcoming, quirky-looking thriller from Drew Goddard, writer of Oscar-nominated film The Martian and creator of Netflix's Marvel series Daredevil.
El Royale centers around a cast of seven strangers who find themselves clashing over the course of a very eventful night in the film's titular, seedy hotel. Though the premise is simple and familiar, the film looks to be filled with slick writing and a gorgeous, neon-soaked aesthetic. Plus, it features a massive, excellent cast, including Jeff Bridges, Dakota Johnson, Jon Hamm, Chris Hemsworth and Cynthia Erivo.
Bad Times at the El Royale comes out Oct. 12. Watch the full trailer here.